Wildcry - Winter 2022 edition 
Winter 2022's edition of Wildcry offers a look back on a very demanding but successful year for our hardworking teams, both overseas and here in the UK. Over the past 12 months we've seen the complex translocation of two lions from Howletts Wild Animal Park, an airlift rescue of a pangolin from Mbombelathe, the rescue of Umbhali a male lion cub in South Africa, a richly deserved international award for a long-standing member of our Madagascar team, and so much more.
The dedication shown by each and every member of our team has been phenomenal, as has the ongoing support of our wonderful supporters. None of this important work would be possible without your help, and we hope this edition highlights the significant impact you have on the lives of countless threatened animals.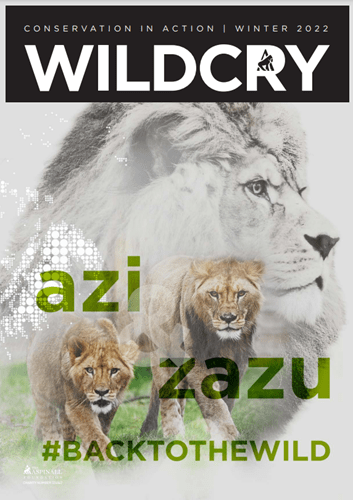 You can also read previous editions of Wildcry below.