Join us
 Our NEW Annual Pass offers the best value days out to two of Kent's most popular animal parks.
You can visit Port Lympne Reserve and Howletts Wild Animal Park as many times as you like in a year to watch your favourite animals grow and change with the seasons or simply pop in with the family to enjoy the cafes and play areas after school.
Use your unlimited access to Port Lympne to drop in to The Garden Room restaurant for an afternoon tea with friends or family or treat yourself to a Sunday Roast in truly stunning surroundings. 
What's included?
Double your days out to two exciting Kent attractions with our NEW Annual Pass!  Your year of fun includes:
Unlimited entry to Howletts Wild Animal Park for 364 days

Unlimited entry to Port Lympne Reserve for 364 days

20% off catering

Truck Safari experience at Port Lympne Reserve

Annual Passholder Card

Regular updates - keep up to date with all our latest news, events and offers 
Prices
| | |
| --- | --- |
| Membership | Price  |
| Adult | £70.00 |
| Child | £60.00 |
| Couple | £135 |
| Family: 1 adult, 2 children | £185.00 |
| Family: 2 adults, 1 child | £195.00 |
| Family: 2 adults, 2 children | £250.00 |
| Family: 2 adults, 3 children | £300.00 |
What will you see at Port Lympne Reserve?
Explore the 600 acres of Port Lympne Reserve to discover over 800 amazing animals!  Jump on board a safari truck to travel through South America, Asia and Africa in one day where you'll encounter free roaming animals against the stunning backdrop of the Kent coastline.  Discover the UK's largest outdoor dinosaur exhibition, Dinosaur Forest, featuring life sized creatures from the pre-historic ages.  Take your time exploring the walking routes, spotting even more animals along the way!
Animals at Port Lympne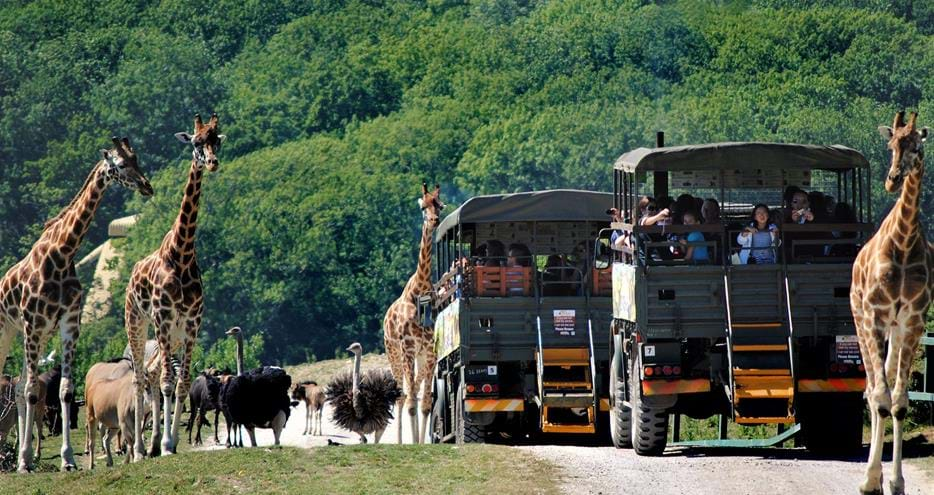 Truck Safari
Your safari experience begins when you board a truck at Basecamp and head into the wilds of South America, Asia and Africa to see free roaming capybaras, tapirs, camels, giraffes, zebras, wildebeest and many more iconic animals roaming the Kentish plains.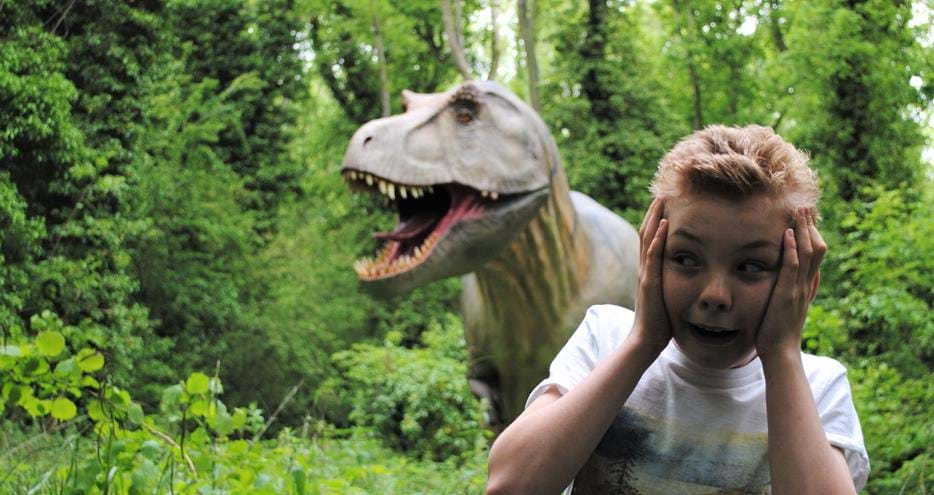 Dinosaur Forest
Come face to face with prehistoric life sized creatures in the UK's largest dinosaur forest! Marvel at the tremendous T Rex, stare at the Stegosaurus and delight at the sheer size of the diplodocus lurking in the 3 acres of Kentish woodland.

Wallaby Walkthrough
Take a walk with our wallabies! Follow the path through the Wallaby Walkthrough and meet these charismatic animals as they bounce around you or snooze in the sun!
The Port Lympne Pride
Spot the Port Lympne lion pride in their new home! The eight-acre, custom-built, fully open-top habitat mirrors the mountain and desert terrain of their ancestral homelands.
What will you see at Howletts Wild Animal Park?
See over 390 animals, including Kent's only giant anteaters, the largest herd of African elephants in the UK, and more gorillas and monkeys than any zoo in the county.
Animals at Howletts

See the Howletts herd
Come and visit the Howletts herd, including our three adorable young bulls, Nusu, Oku and Nguvu. Don't forget to stop in for our daily elephant talk to hear more about these trunky troublemakers and their upcoming rewilding adventure.

Kent's only honey badger
Howletts is home to Tembe, Kent's only honey badger. Fond of strawberries, chicken and destruction, Tembe is a real favourite with keepers and visitors alike.

See giant anteaters!
The giant anteaters at Howletts have always fascinated visitors. Our pair, Zet and Fidji enjoy a snooze in their warm bedroom, but are often seen exploring their outside paddock and searching for insects in the logs of their enclosure.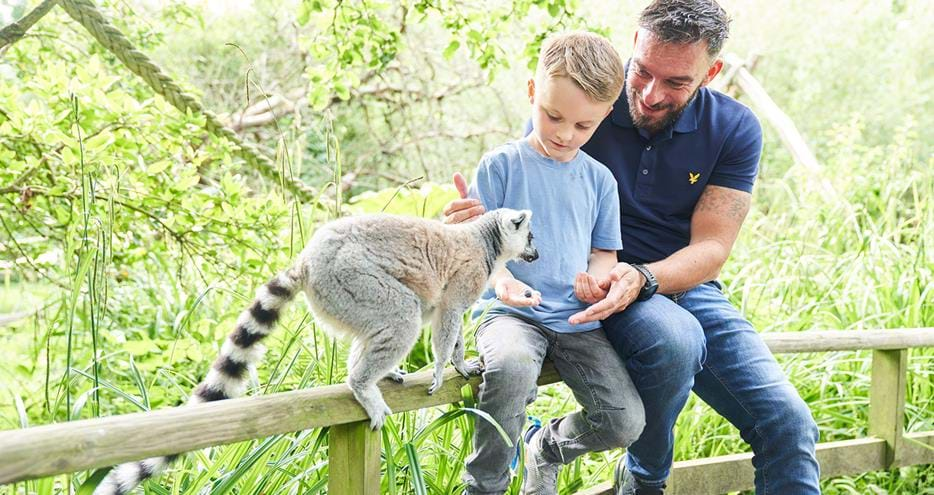 Walk with lemurs
You can walk alongside our lively lemurs in their natural leafy enclosure as the playful primates explore the branches overhead. See ring tailed lemurs, crowned and red-bellied lemurs in this ever popular walk-through lemur experience found in the heart of Kent – it's a must visit!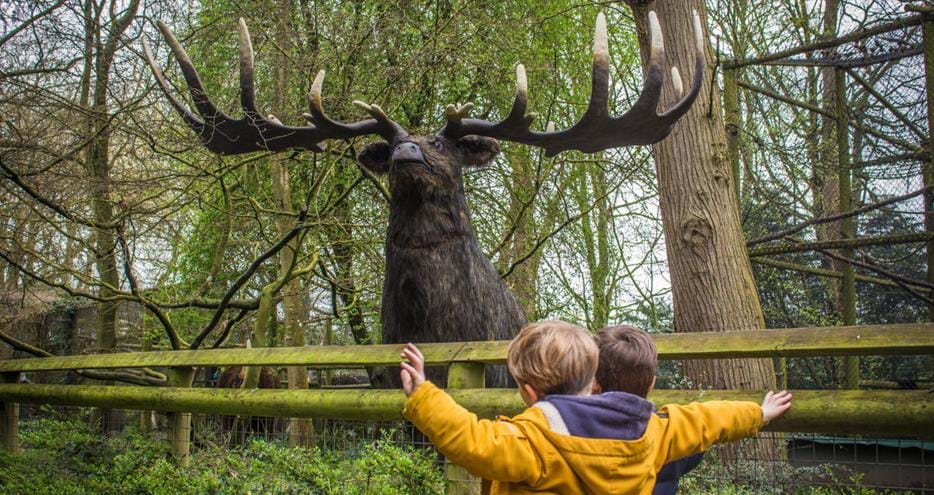 Animals of the ice age
As you explore a forgotten land, you'll marvel at the life size prehistoric creatures taking over the Woodland Walk. Wonder at the mighty mammoth, stare at the savage sabre toothed Smilodon and delight at the sheer size of the giant sloth, plus many more - all included in you
A valid Howletts & Port Lympne Annual Pass admits the named individual to Howletts Wild Animal Park and Port Lympne Hotel & Reserve during normal day guest opening hours on valid dates for 12-months from the date of purchase.

Photo verification is required for adult Annual Passholders.

When purchasing an Adult + Carer Annual Pass, PIP/DLA validation must be provided at the point of purchase.

Annual Passholder cards must be issued and collected at the Gatehouse of Howletts Wild Animal Park or Port Lympne Hotel & Reserve within one year from the date of purchase.

We reserve the right to charge a small non-refundable booking donation at any time during the year. Any affected dates will be posted on the Howletts and Port Lympne Annual Passholder pages on our website.

An Annual Pass is attached to the named individual and is not transferable for any reason.

Entry will not be granted to Howletts or Port Lympne without displaying your valid Annual Passholder card at our Gatehouse. If you visit without your Annual Passholder card you will be asked to pay our standard admission price, which is non-refundable.

Howletts and Port Lympne reserves the right to withdraw an Annual Pass or refuse renewal of an Annual Pass at any time.

Howletts and Port Lympne reserve the right to make changes to the Annual Pass terms and conditions at any time.

Lost Annual Passholder cards can be replaced at an additional charge of £10 per lost card. Replacement cards can only be issued in person at the Howletts or Port Lympne gatehouses.

Some attractions or special events may not be included in the Annual Pass and additional fees may apply. Safaris at Port Lympne must be pre-booked and are subject to availability.

Children must be accompanied by a responsible adult at all times.

The Annual Pass cannot be used in conjunction with any other offer or promotion.

Refunds will not be given. Annual Passes are non-refundable from point of purchase.

The Annual Pass is not for resale and cannot be transferred.

Howletts Wild Animal Park and Port Lympne Hotel & Reserve reserves the right to close to the public, withdraw any attraction, alter times, prices and events or services without notice.

Entry is subject to our standard terms and conditions. Opening times and days vary throughout the year, please ensure that you check our opening dates and times before starting your journey.

20% discount at catering outlets at Howletts Wild Animal Park and Port Lympne Hotel & Reserve is subject to availability and applicable for a maximum of 4 people per transaction.

20% catering discount excludes The Port Lympne Mansion & Bar, Babydoll's Wood-Fired Pizza, Bear Lodge Restaurant and The Garden Room Restaurant & Bar at Port Lympne Hotel & Reserve.