Your visit to Kent's award winning wildlife attraction
Great days out
First and foremost, we are a conservation charity dedicated to protecting wildlife. Working alongside The Aspinall Foundation, we aim to introduce animals back to the wild.
Visit us for the day and explore over 600 acres of wildlife! Included in your visit is a free safari and access to our NEW attraction, Dinosaur Forest. Discover our amazing animals and enjoy the beautiful backdrop of the Kent coastline.
Extend your day with a stay at one of our stunning short breaks packages. With 8 different ways to stay, there is something for everyone.
Visit our restaurant and bar for delicious food or drink – you can even choose Port Lympne to host an event or wedding. There's so much more to us than you think!
Explore: the animals
We're home to over 700 rare and endangered animals, including the largest herd of black rhino in the UK, western lowland gorillas, the only giraffe in kent, tigers, lions, leopards, bears and so much more! With regular animal births and new species coming in every year, there's always something different to see.
Take a look at our gallery below to see some of our lovely animals or see more here.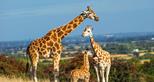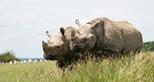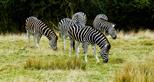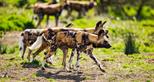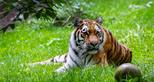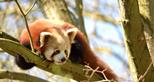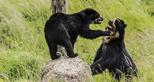 Stay in our multi award-winning accommodation
There are currently 8 amazing ways to stay at Port Lympne with three new accommodations launching in 2017. Our award winning short breaks range from glamping, a luxurious 4* hotel, or a unique Treehouse stay. Set in this unique coastal location, with amazing views and surrounded by wildlife, it's a short break you'll never forget.
What's more, all profits from the parks and short breaks go back into the conservation work of our charity. So you can enjoy your break, knowing that you are directly helping our conservation work.
There's so much more to Port Lympne...
We take good care of our animals and good care of our guests too. There's a host of free animal talks to enjoy, regular animal feeds for you to see, a free safari ride, stunning views of the Kent coast, and lots more! There are cafés around the reserve, a restaurant and bar at the Port Lympne Hotel, as well as 15 acres of landscaped gardens to explore. Book an experience, stay, hire the hotel or even get married here, there's plenty to keep you entertained at this award winning wild animal park.
Explore: Dinosaur Forest
Steel your nerves as you journey through Dinosaur Forest!  Marvel at the tremendous T-Rex, stare at the Stegosaurus, feel the terror of the Pterodactyl, and delight at the sheer size of the diplodocus! Come face to face with prehistoric life-sized creatures in the UK's largest dinosaur forest and make them come to life with our virtual reality app!
Find out more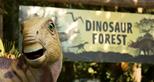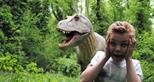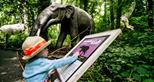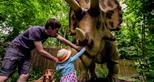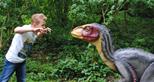 Memberships
Book your annual park membership to a world of fun and conservation online today and enjoy exclusive benefits all year round.
Buy your membership
We're not a zoo
We are dedicated to conservation, providing world class care for our animals and providing a great day out for our visitors. We enjoy sharing park news with you, whether this be about our animals, our projects, new experiences or our conservation work.
We work closely with our sister park Howletts and The Aspinall Foundation to send our animals Back To The Wild to reintroduce endangered species to their real home. Find out more about the Back To The Wild programme and how you can help support our conservation work
CELEBRITY TESTIMONIAL

Denise Van Outen

Went glamping at Port Lympne for my birthday – it was the best weekend, just fantastic.
Fantastic day out!

I visited the park yesterday with two toddlers and a baby. Fantastic day out...in a beautiful location looking out to sea over the Kentish downs. The dinosaur park was a big hit with the tots. A special thank you to our guide Stephen for a magical safari to see the giraffe family. Chisgirl2015 (Tripadvisor review)
Testimonial

Fab

Lots of animals to see, fab safari experience too! Lots of walking but do provide push chairs for families with young children which is brilliant. BabyOwl6 (Tripadvisor review)
CELEBRITY TESTIMONIAL

Peter Andre

Amazing. I've experienced safaris in Africa and ever since then I've believed that animals shouldn't be kept in captivity. But I loved this because it's a safari, the animals get so much freedom...We loved seeing the silverback gorillas, it was like we were communicating with them. They had these incredible treehouse lodges so it's like you're in the middle of Kenya, it's very cool. The reserve is also a registered charity and they have so many conservation projects where they send animals back to the wild, which is so great...Port Lympne Reserve is definitely a favourite with the kids. (OK Magazine 28th June 2016)
How to get here
Port Lympne Reserve, Nr. Ashford, Kent, CT21 4PD