Family glamping adventure in the great outdoors with wild neighbours
Spend your days spotting wild animals and making memories with the family in the 600 acre Reserve, followed by an evening of toasting marshmallows at the firepit and a night under canvas, snuggled up in real beds with en suite facilities!
Open all year and overlooking the spectacled bear habitat in a quiet corner of Port Lympne Reserve, you'll feel like you're part of the sky as you enjoy the colourful sunsets and spectacular display of the stars from your comfy perch on the hilltop at Bear Lodge.
Sleeping 8 in comfortable beds with snug bedding and towels, fridge and tea-making facilities included, Bear Lodge provides the perfect base for your wild adventures, with a touch of rustic charm. The 19 glamping tents surround the central Clubhouse where you'll find home cooked, family favourites in the restaurant and a well stocked bar.
Book a front row tent at Bear Lodge     Book a back row tent at Bear Lodge
Please note: Golf buggies are not available at Bear Lodge and your view will be of our spectacled bear enclosure, not our new brown bear enclosure.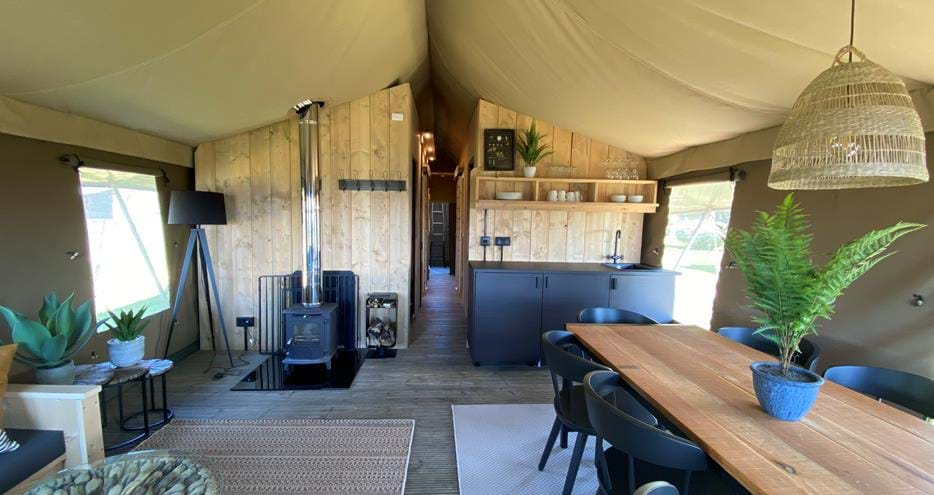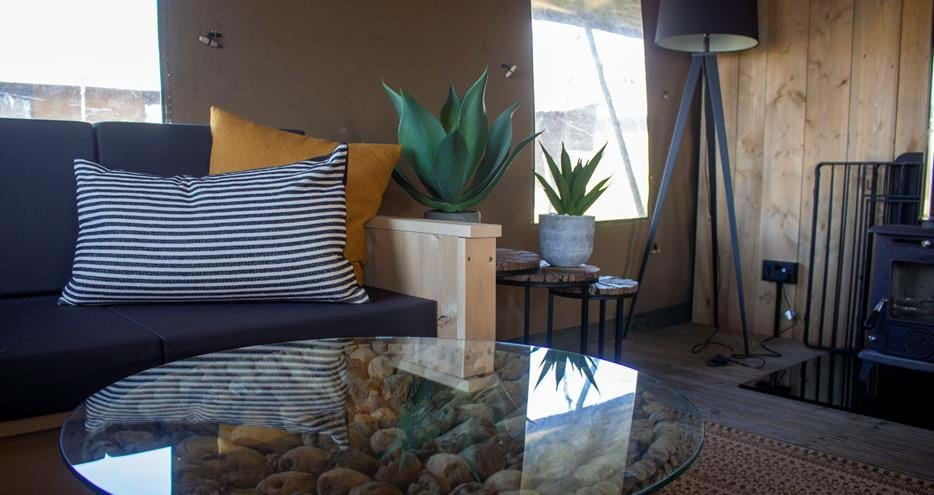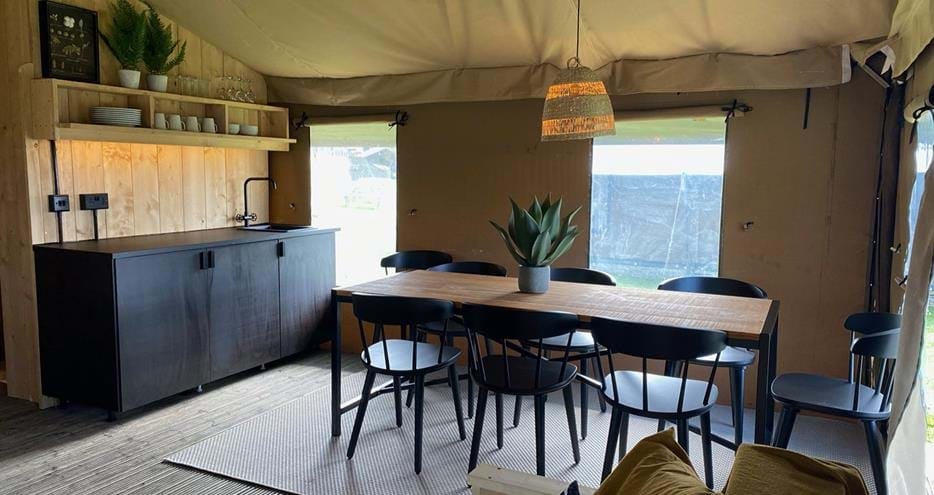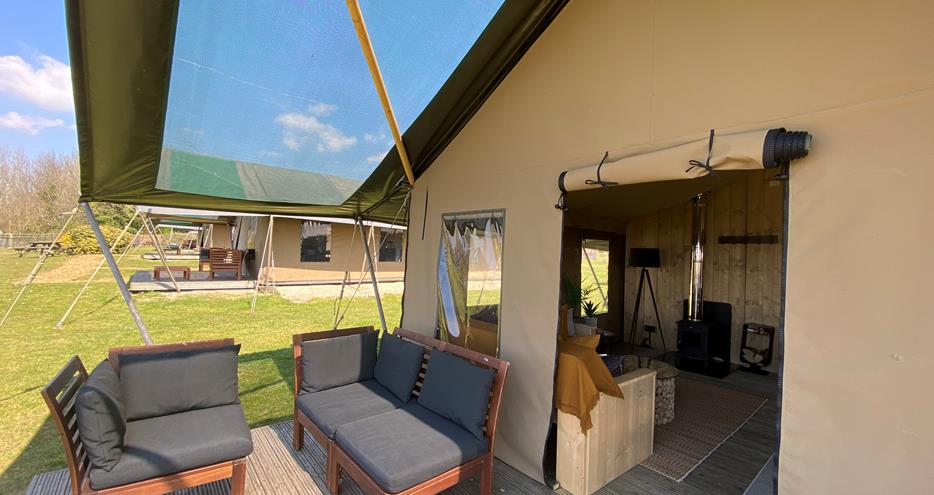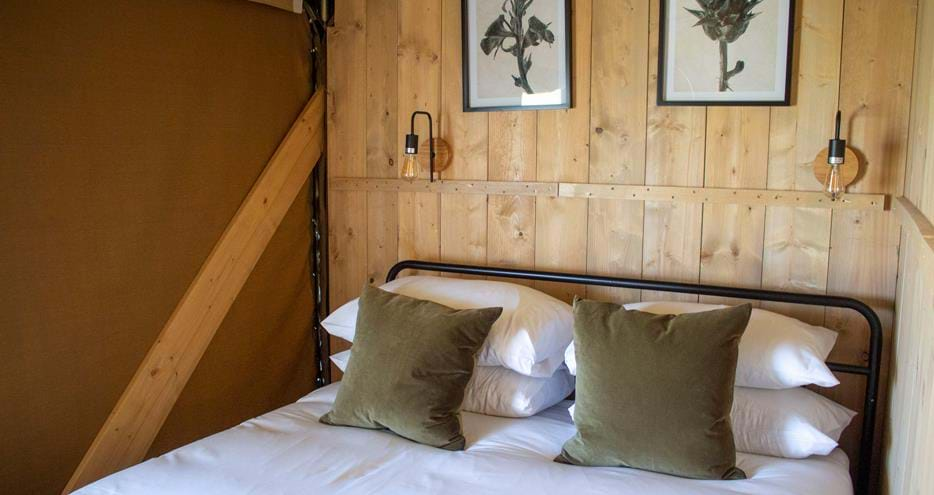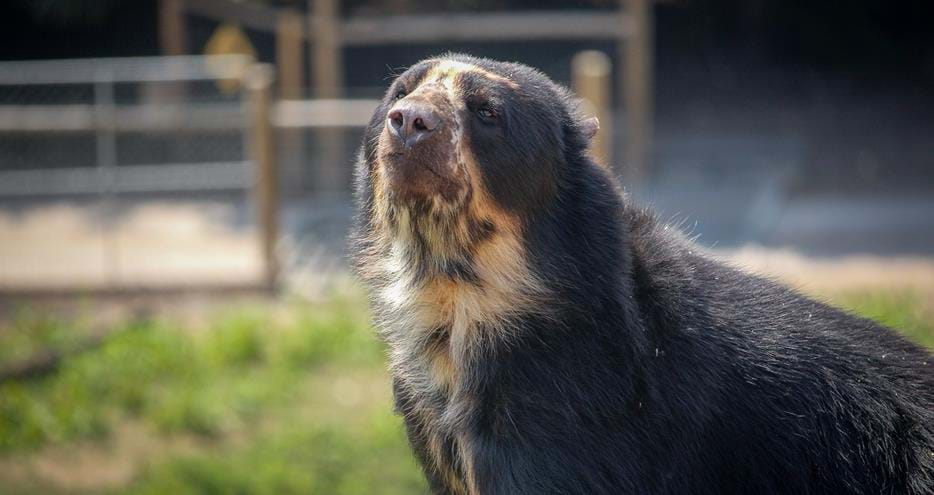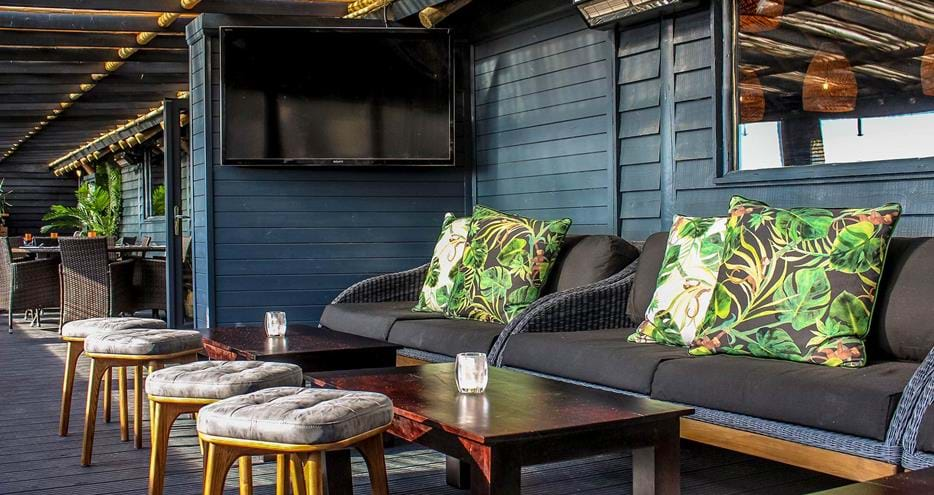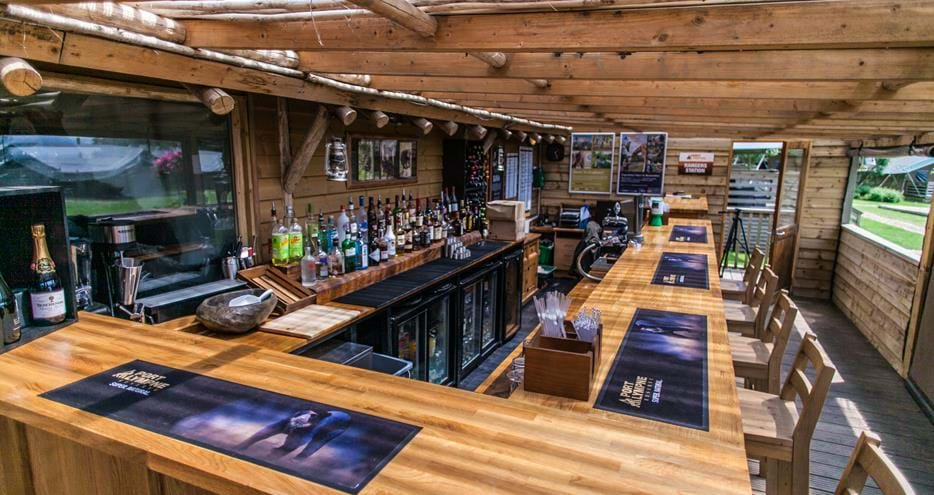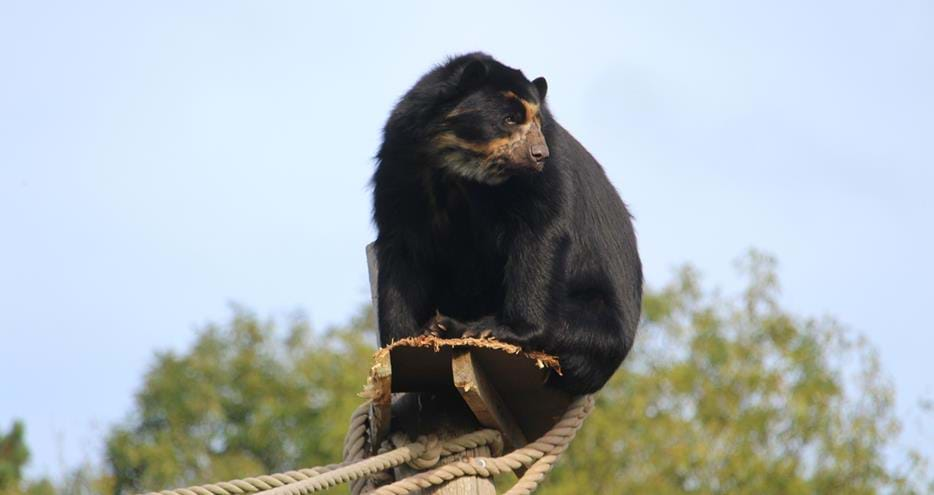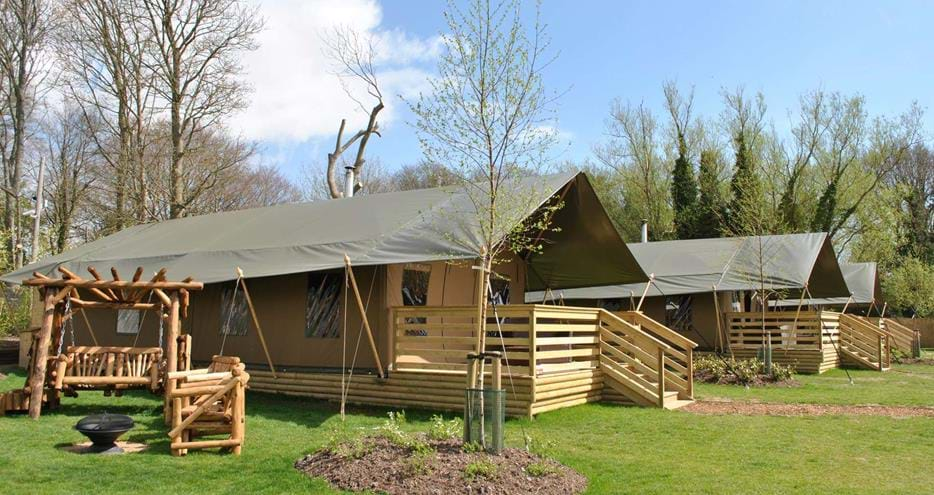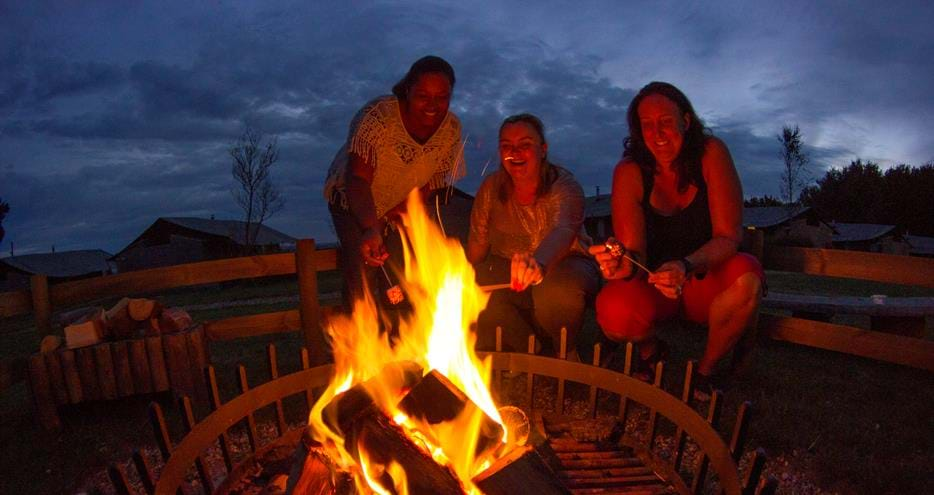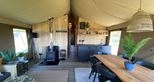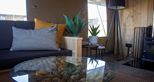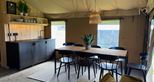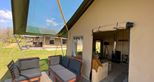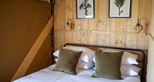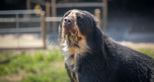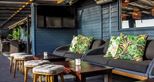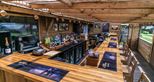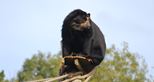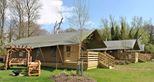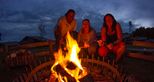 Your Accommodation
Wildlife at your doorstep
Safari experience
Eat & Drink
Prices and booking
Your Accommodation
Bear Lodge is a complex of 19 glamping tents each sleeping 8 people in 2 double beds and 2 bunk beds. With ensuite bathroom and shower, bedding and towels included, fridge and tea-making facilities and a cosy living area with log burner, Bear Lodge provides the perfect base for your wild adventures, with a touch of rustic charm. 
Your family and friends will love spending the nights under canvas, listening to the sounds of the wild and reconnecting with nature. Snuggle up with extra blankets and a glass of wine on your private deck for a cosy evening of star gazing, or simply enjoying the starlit view of the reserve and over the Romney Marsh to the coast. Make sure you pack your cosiest PJs and fluffiest bed socks, as seasoned glampers will know, it can get a little chilly at night.
Please note: Golf buggies are not available at Bear Lodge
Wildlife at your doorstep
As well as Oberon & Rina, Kent's only spectacled bears, you'll discover over 900 rare and endangered animals as you wander the rest of the 600 acre reserve. Jump aboard a safari truck at Basecamp and journey to the South American, Asian and African Experiences where you'll encounter free roaming animals and spectacular scenery. Admission to our sister park, Howletts Wild Animal Park is also included in your stay from 9.30am on the arrival day to closure on your departure day.
Safari experience
All of our short breaks guests have a safari included in the cost of their stay. Your safari will take you on an adventure through our South American, Asian and African Experience zones where you will see spectacled bears, giraffe, zebra, wildebeest, camels and more. 
Eat & Drink
The Bear Lodge Restaurant is open for breakfast and dinner bookings, or you can venture into the Reserve itself to enjoy one of the many cafes and restaurants at Port Lympne, like the wood fired pizza at Babydoll's or the bistro style dishes at The Garden Room. Alternatively, relax in the tranquillity of the unique Moroccan Courtyard at Port Lympne Hotel (open spring & summer).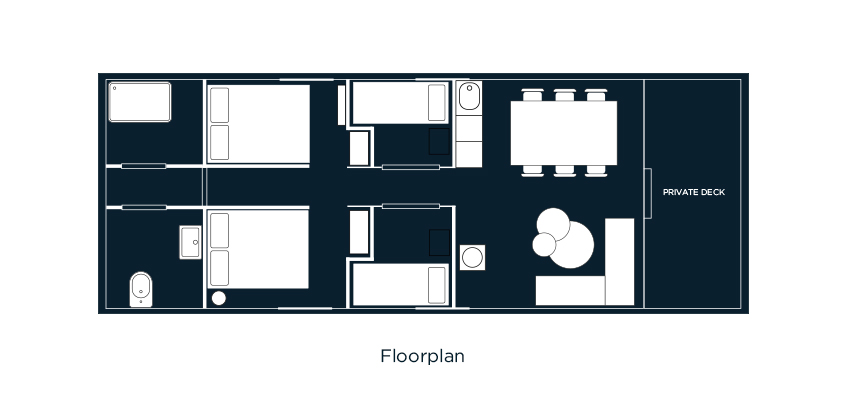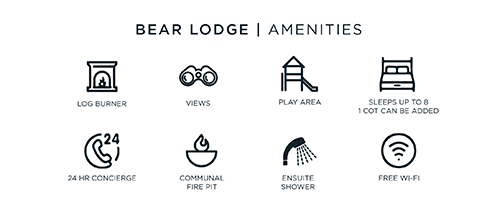 What's Included
Stay at Bear Lodge for 8 people
Entrance to Port Lympne Hotel & Reserve and Howletts Wild Animal Park (from 9.30am on the day of arrival until closure on the day of departure)
Safari experience
Access to the park's

 

restaurants

Bedding and towels

Fridge and tea-making facilities

Communal firepit
Play area
Free WiFi
Free on site parking
Frequently asked questions
Below you'll find the most common questions our guests ask about staying at Bear Lodge.
How do we check in?
Our friendly team will meet you in Reception.
What time do we check in?
Check in is at 3pm but if you would like to arrive earlier and explore the Reserve, we can look after your luggage. A code for entry to Bear Lodge will be supplied in your booking confirmation, please call us on 01303 234112 if you have not received this before arrival.
Is it a separate entrance to Bear Lodge from the reserve?
Yes, for satnav the postcode to Bear Lodge is CT21 4LN, for the main park the postcode is CT21 4LR, they are approximately half a mile drive apart. If you would like to make use of the park on the day of arrival please head straight to the main entrance and show your booking confirmation for access. During your stay, access to the park is via the main entrance only.
Do we get admission to Howletts Wild Animal Park included in our stay?
Yes. Bear Lodge guests get admission to both Port Lympne Reserve and our sister park Howletts for the duration of your stay, for satnav the postcode to Howletts is CT4 5EL, please show your booking confirmation for access.
Can we cook in the tent?
The tents do not have cooking facilities, however tea and coffee making facilities are available and each tent has a small fridge. The onsite Club House Restaurant offers breakfast and dinner or guests are welcome to dine at our other restaurants within the reserve. Please book dining times when you arrive.
Where will I sleep?
All tents are comfortably furnished and include bedding and en suite facilities. Tents sleep up to 8 people in 2 double beds and 2 sets of bunk beds.
Are towels, bedding and toiletries supplied?
Bath towels, hand towels, tea towels and bedding are supplied along with body wash for the shower and hand soap for the toilet. A starter toilet roll is supplied, however we recommend that you bring an adequate supply for the duration of your stay. Alternatively there is a supermarket in the nearby town of Hythe and a small shop in the nearby village of Lympne.
Can we bring our own alcohol?
Yes, alcohol may be consumed within the area of your tent, however if you wish to try an unusual tipple, the Club House bar is open until 10.00pm.
What food is offered in the restaurant?
A variety of menu choices are served in the restaurant. We also offer bar snacks and a children's menu. For any dietary requirements, please give us a call on 01303 234112.
What are the restaurant opening times?
The Club House Restaurant opens at 8am for breakfast until 10.00am. In the evening the kitchen closes at 9.00pm and the Club House closes at 10.00pm. You will need to book your dining times for our restaurant. 
What entertainment is included?
You'll enjoy free entry to Port Lympne Reserve and Howletts Wild Animal park throughout your stay with us. Plus, there are a number of optional activities available to buy, including special safaris and animal encounters. There will be an onsite Ranger with whom you can book this when you check in or please book prior to your visit.
Are there lodges with wheelchair access?
One of our luxury tented lodges is adapted for wheelchair access. Please call 01303 234112 to check availability of this Lodge.
Can we play music in our tents?
Playing music is fine, but please remember that there will be other guests who may not share your taste. The tents are canvas and noise carries across the site so please don't be alarmed if we ask you to turn it down.
Is there a power supply in the tent?
There is limited power supply in the tents so we recommend that you check with the Reception staff on arrival but this is 'Camping' after all!
Can we bring candles?
Yes, but please only use in proper candle holders for your own safety and that of fellow campers.
Can we bring balloons & footballs?
Unfortunately not, if these were to get into our animal enclosures and in turn were ingested by our animals they would become very sick.
Is smoking allowed on the site?
Yes, but please note that smoking is not allowed in the tents, Club House Restaurant or on the decking.  
Does it get cold in the tents?
During adverse weather and in the early spring/autumn months the tents can get cold. Extra blankets are provided in all the tents, but we would advise that you pack appropriate clothing for the cold and pack extra blankets in case of colder weather. The Lodge is a tent and therefore can get cold once the sun goes down.
Do all of the tents have a view?
Some tents are situated at the front of the site with views of the spectacled bear paddock, South American Experience and the coast. Some are situated to the left of the clubhouse and behind the clubhouse. When booking, please indicate your preference of location/upgrade.
Is a golf buggy included?
Golf buggies are not available at Bear Lodge. 
You may also like
With 14 different ways to stay, we're certain we have the perfect accommodation for you at Port Lympne Hotel & Reserve. Don't forget that our unique accommodations can be booked as part of your conference or private event.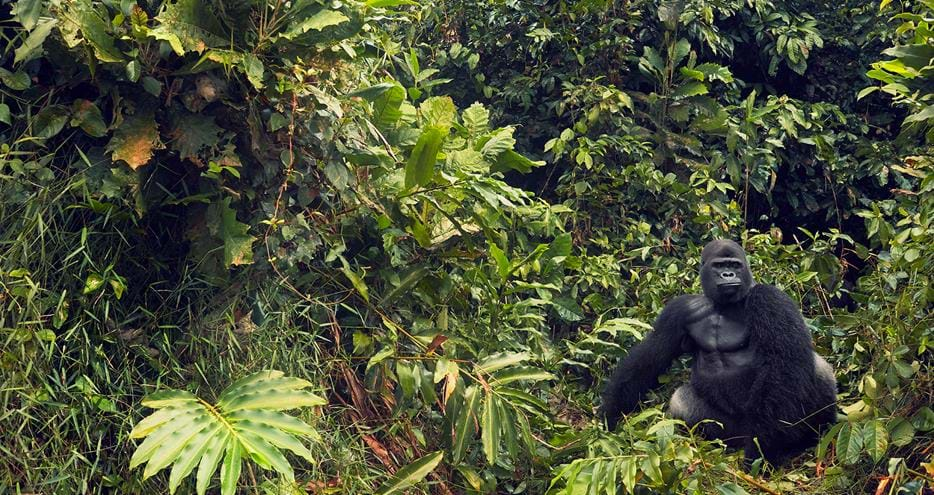 Back to the Wild!
With your visit and stay you contribute to our greatest mission, getting the animals 'Back to the Wild'. This initiative has already seen an impressive number of animals born at Howletts and Port Lympne returned to their natural habitats. Your help is vital for our worldwide conservation projects.