Support their journey
World First for Cheetah Conservation
The Aspinall Foundation has achieved ground-breaking results in their cheetah rewilding project in South Africa. In February 2020, The Aspinall Foundation became the first organisation to ever rewild cheetahs born in the UK.
Saba & Nairo, two brothers born at Port Lympne Hotel & Reserve and later transferred to Howletts Wild Animal Park, were flown 6,000 miles to Ashia Cheetah Sanctuary in South Africa's Western Cape. There, they acclimated to life in South Africa and trained for life in the wild.
A few months later they moved to Mount Camdeboo Private Game Reserve in Great Karoo. They were introduced to native prey species including springbok and blesbok in a specially-designed hunting boma and quickly mastered hunting for themselves. Not only was this an incredibly proud moment for our teams, but it also clearly demonstrated that captive-born carnivores can be rewilded effectively.
Saba & Nairo's incredible contribution to conservation is ongoing. The pair have been introduced to a rewilded female cheetah named Ava and it is hoped that she will choose to breed with one of the brothers. Their genetics will add desperately-needed diversity to the wild cheetah population in
South Africa and their offspring will live wild and free, as all animals should!
Donate today
The beginning
Learning to hunt
Success!
Almost wild and free
The beginning
After spending five months at Ashia Cheetah Conservation just outside Cape Town to acclimatise, the boys undertook a 660 km trip to their new forever home, Mount Camdeboo Private Game Reserve located in the Great Karoo.
Watch one of Nairo's first attempts at hunting.
Learning to hunt
The two brothers were initially housed in a holding boma for further acclimatisation before being released into a purpose build 300 hectare/741 acre hunting area which was designed to teach them how to hunt local prey species consisting mainly of blesbok, springbok and warthog.
Success!
Within a mere 24 hours of their release into the hunting area, the brothers split up to explore their new environment and Saba managed to kill a blesbok, whereas Nairo managed to successfully kill a springbok. Since then, the boys have managed to kill another springbok ram. A phenomenal outcome for two cheetahs who were in captivity five months ago.
Almost wild and free
The brothers are constantly developing their hunting skills and should they not be able to hunt for three to four days, they are supplemented with carcasses. Once they are able to hunt competently on their own for a period of four to five consecutive weeks, they will be released into the larger 8000 hectare/19768 acre reserve to be truly wild.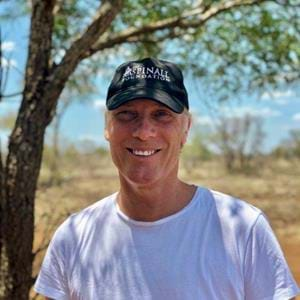 August 2020

Damian Aspinall, the Chairman of the Aspinall Foundation

Saba and Nairo are both doing exceptionally well in their new hunting area. They are acting like wild cheetahs with real confidence. We need to keep in mind that this is a ground-breaking process as it is the first-time that zoo animals from the United Kingdom have returned to their native homeland to be rewilded. The boys are therefore being monitored carefully to ensure success, we are however very proud of what the team and our partners at Mount Camdeboo Private Game Reserve, have achieved in releasing these animals back into their natural habitat.
How you can help
None of this is possible without your support. Donating just £10 will help us fund the release and continued monitoring of Saba & Nairo and bring the boys one step closer to their new life in South Africa.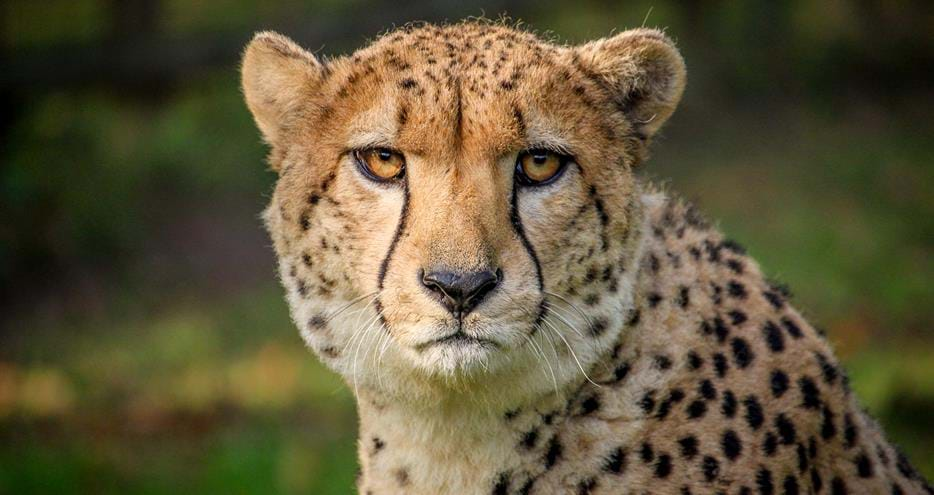 Declining population
In the wild, cheetah numbers are dangerously low. An estimated 6,674 individuals remain and the wild population needs all the support we can offer.

Fresh genetics
Most of the wild population in South Africa live in protected reserves and national parks. Those populations are becoming increasingly related. Saba & Nairo will bring much-needed new genes to the breeding program.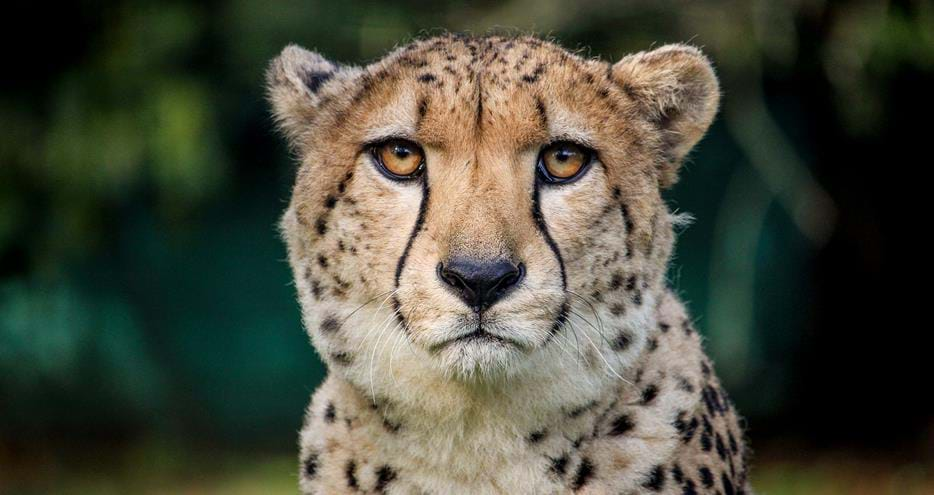 #BackToTheWild
We at The Aspinall Foundation believe that, wherever possible, animals born in our UK parks should be released into protected areas of their natural habitat. We have already successfully rewilded animals in Congo, Gabon, Java, South Africa, Tanzania and China.

Saba
Saba was hand-raised by Aspinall Foundation Chairman Damian and his wife, Victoria. Saba was still very affectionate to his early carers but became less accepting of others before leaving. When he was younger, Saba liked to play chase and wrestle but now prefers to lie back and watch the world go by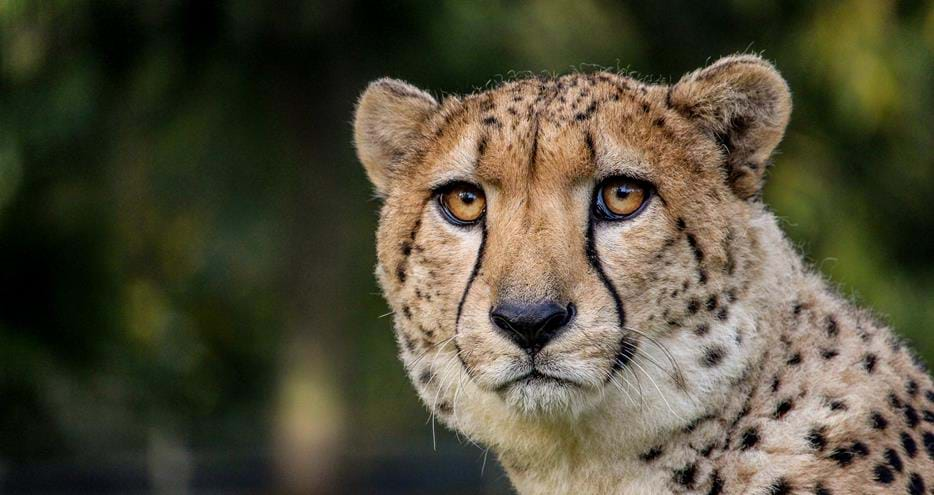 Nairo
Nairo, Saba's littermate brother, was raised by his mother and, at the time he would naturally have dispersed from his family, came to join Saba. Nairo is very gentle and accepting and soon made friends with Saba. He is far stockier than his brother; he is the muscle and Saba is the brains.
Mount Camdeboo
Ashia Cheetah Sanctuary
Mount Camdeboo
Mount Camdeboo is a 14,000 hectare private game reserve in Great Karoo. The founders have a passion for conservation and their stunning property is now home to several rescued and rehabilitated endangered species. 
The reserve is home to the first elephant bull rescued by The Aspinall Foundation and partners in October 2019. The Mount Camdeboo team were also instrumental in the dramatic rescue of 11 elephants, 4 giraffe, 29 wildebeest and 19 buffalo from Blaauwbosch Reserve a few weeks later.
After they have successfully rewilded, Saba & Nairo will live #BackToTheWild on the expansive Mount Camdeboo reserve and will be carefully monitored by their expert team.
Ashia Cheetah Sanctuary
Ashia, a world-class cheetah sanctuary near Cape Town in South Africa's Western Cape, was founded to help prevent the further decline of cheetah populations and to increase the gene pool through its captive breeding, wilding and release program. Ashia is successfully returning captive born cheetahs into the protected wild of South African game reserves and national parks. 
Ashia started its Breeding, Wilding and Release Program mid 2018 in cooperation with Kuzuko Lodge, a 15,000 ha private game reserve in the greater Addo area, Eastern Cape. So far 9 cheetah, all born and raised in human care, have been successfully wilded. Two females have given birth in the breeding sections and their cubs are earmarked for final release on game reserves by end of 2020. Four cheetah have already been translocated from the wilding sections to their final release destinations on pre-selected game reserves within the South African Cheetah Metapopulation, coordinated by the Endangered Wildlife Trust (EWT).
Ashia will continuously wild captive-born cheetah and release self-sustaining cats into pre-selected areas identified, inspected and approved by Ashia's management. Whenever a cat is ready to leave the wilding program for final release, the available space in the wilding sections, either at Kuzuko or at Mount Camdeoo, is immediately used to prepare the next generation for their walk on the wild side.
Help us make a REAL difference
Ground-breaking conservation work carried out by The Aspinall Foundation is only possible with the support of individual donors. You can join us and help not only to protect the future for these cheetah brothers, but also support our ongoing re-wilding programme. Please donate now and type cheetah in the comments box when you complete your details.
Donate
We are proud to be registered with the UK's Fundraising Regulator.