FEMALE CHEETAH TRANSLOCATED TO SOUTH AFRICAN RESERVE TO JOIN REWILDED BROTHERS, SABA & NAIRO
Internationally renowned conservation charity, The Aspinall Foundation, are pleased to announce that they have completed the translocation of a female cheetah to Mount Camdeboo Reserve in South Africa where she will eventually join the charity's two successfully rewilded male cheetahs, Saba and Nairo. 
The charity partnered with the North-West Provincial Government, The Endangered Wildlife Trust and Mount Camdeboo to carry out the translocation, which took place in September 2021.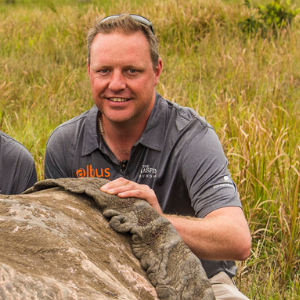 Southern Africa Project Director for The Aspinall Foundation

Dereck Milburn

Working effectively with local government, The EWT and Mount Camdeboo teams, we were able to respond quickly to an urgent need to reduce the risk of human-wildlife conflict and find Ava a new home. We are hopeful that she will choose to breed with Saba or Nairo and their valuable genetics will add much-needed diversity to the wild cheetah metapopulation in South Africa.
The female, named Ava, was rescued as a problem cheetah in the North West Province, after she had regularly strayed onto farmland in the area. She will be kept in a hunting boma for several weeks to acclimatise to her new surroundings whilst being regularly monitored. Once the Aspinall Foundation and Mount Camdeboo teams are confident that she is fully habituated, Ava will join the brothers on the main reserve.
Saba and Nairo were rewilded from Howletts Wild Animal Park to Mount Camdeboo in a conservation world-first, and were finally released onto the main reserve in February this year. They are now self-sufficient hunters, taking down large prey such as kudu and blesbok.




Object reference not set to an instance of an object.