THE ASPINALL FOUNDATION AND WILD911 ORGANISE MAJOR RESCUE
The Aspinall Foundation in conjunction with Wild911, an American NGO, have stepped in to save a large number of animals within a hunting reserve in South Africa from an almost certain death.
The 11 elephants, 24 giraffes, buffalo and wildebeest were discovered at Blaauwbosch Private Game Reserve in the Eastern Cape region of the country in terrible condition. The animals had been left in an overstocked fenced area without water during a sustained period of drought.
Find out more about the Blaauwbosch rescue mission below:
Donate today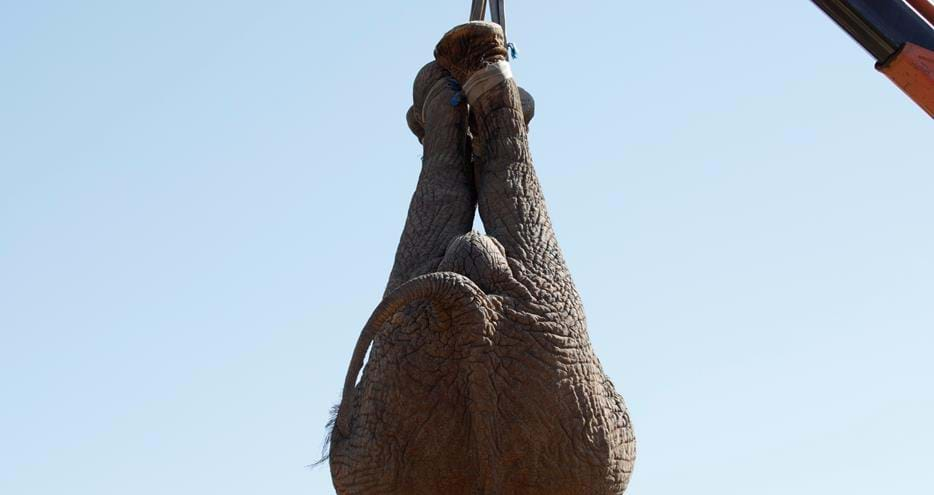 11 elephants
The first step of the Blaauwbosch rescue was the largest. 11 hungry, thirsty elephants needed urgent rescue. The animals were darted and loaded by crane into waiting transport crates. Lifting them this way looks scary, but it is the safest and fastest method and so reduces the time under sedation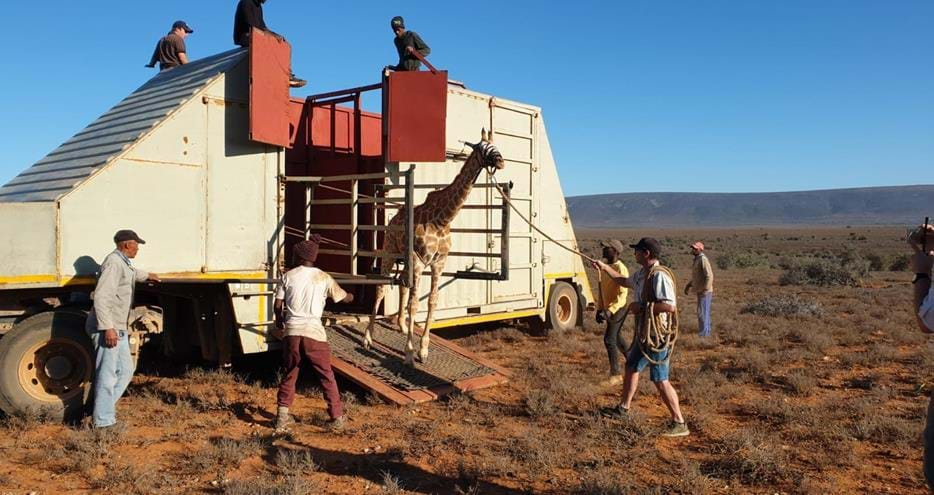 4 giraffe
Just a few days after the elephants were rescued, the team headed back to Blaauwbosch to save as many giraffes as possible. After years of neglect, only four were healthy enough to transport. The rest will be looked after at Blaauwbosch by the SPCA until they are strong enough for us to try again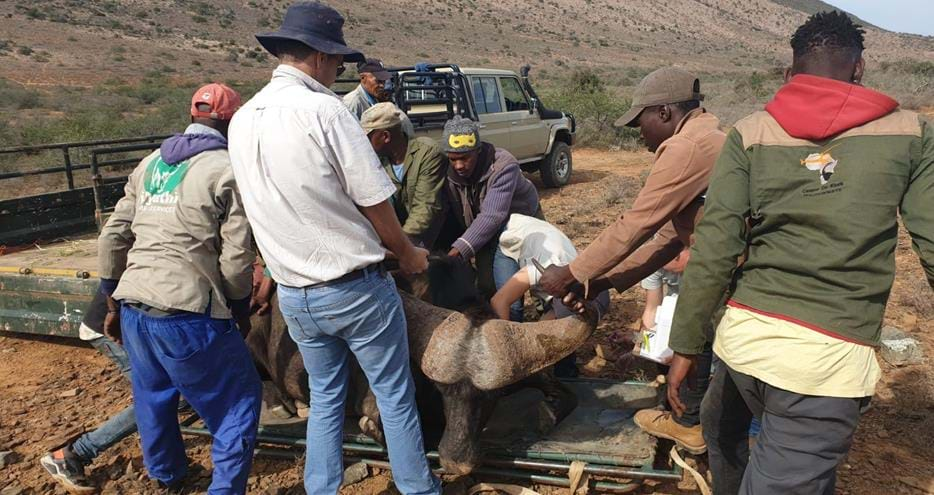 19 buffalo
Buffalo are large, powerful and dangerous animals which must be handled extremely carefully. Fortunately, our team of experts knew exactly what to do and within a few hours 19 of these majestic animals had been darted, loaded and were on their way to safety.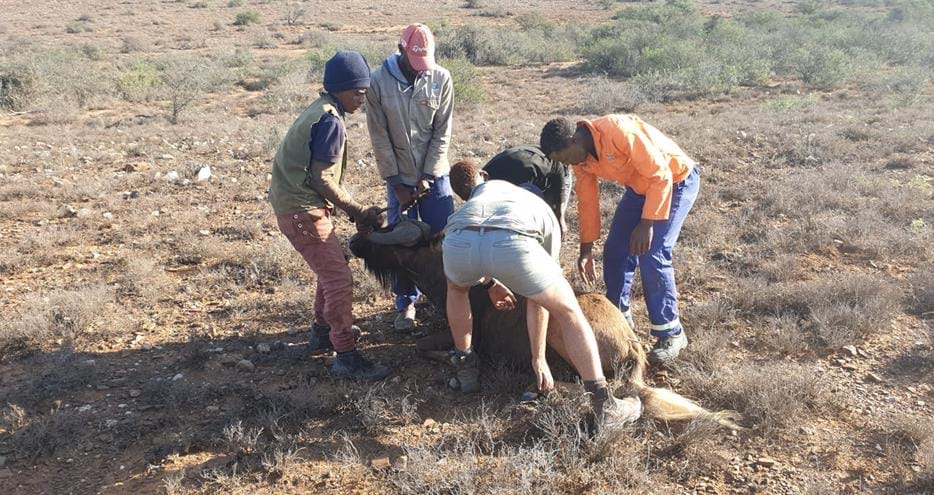 29 Wildebeest
29 wildebeest were rescued from Blaauwbosch on 25th November 2019. Expert helicopter pilot Grant Soule from Inyathi Game Services herded the animals from the air while Dr William Fowlds darted them for transport. They were safely released into nearby reserves just hours after capture.
How It Started
The Challenges
The Team
Where are they now
How It Started
This rescue follows the successful relocation of a bull elephant in October 2019. The conditions at Blaauwbosch forced the bull elephant to leave the reserve and wander the neighbouring farms, causing a hunting permit to be issued by local authorities. The Aspinall Foundation and Wild911 stepped in, overturned the permit and the elephant 'Harry' was relocated to the safety of Mount Camdeboo Private Reserve. Read more about Harry's relocation.
After the success of the bull's relocation, the SPCA approached The Aspinall Foundation, Wild911 and Mount Camdeboo Private Reserve to assist with translocation of the remaining animals at Blaauwbosch.
The Challenges
The elephant rescue was almost blocked after the owner of Blaauwbosch tried to enforce an injunction against the team to stop the rescue taking place. Key members of the team, led by Mount Camdeboo's Peter Chadwick, rushed to court and successfully defeated the injunction.
The Team
The Aspinall Foundation team on the ground was led by Dereck Milburn who is our Southern Africa Director. Dereck commented "There are unfortunately too many animals in this situation in South Africa that require the intervention of organisations such as ours and Wild911. It is rare however that so many animals require assistance in one go and in one place and the logistics of finding them all new homes and then successfully transporting them is a real challenge. Some of the animals are already in a very poor condition but we will do our best to save as many of them as possible and give them a new life in a suitable environment."

Wild911's Chris Holcroft added "It's a simple matter of ordinary people doing extraordinary things to help those that can't ask for help but badly need it."
The translocation was managed by Kester Vickery's Conservation Solutions, who specialise in professional, logistical, veterinary and technical support for conservation projects across Africa.
The full team included members from The Aspinall Foundation, Wild911, Mount Camdeboo Private Reserve, SPCA, Conservation Solutions, Buffalo Kloof, Ikhala, the local community and Dr William Fowlds.
Where are they now
The elephants rescued from Blaauwbosch are now living happily at Buffalo Kloof Private Game Reserve, where they are under 24-hour protection from Vetpaw, a group of post 9/11 US veterans with combat skills who are committed to protecting and training Park Rangers to combat poaching on the ground in Africa.
Our Previous South African Rescue
Elephant Marked for Death Saved by The Aspinall Foundation
Many of you have followed Harry the Elephant's translocation to Mount Camdeboo. Marked for death, The Aspinall Foundation stepped in to save this bull! He is now doing really well in his new home, exploring the mountains and wallowing in mud. We would like to thank you all for your amazing support as always!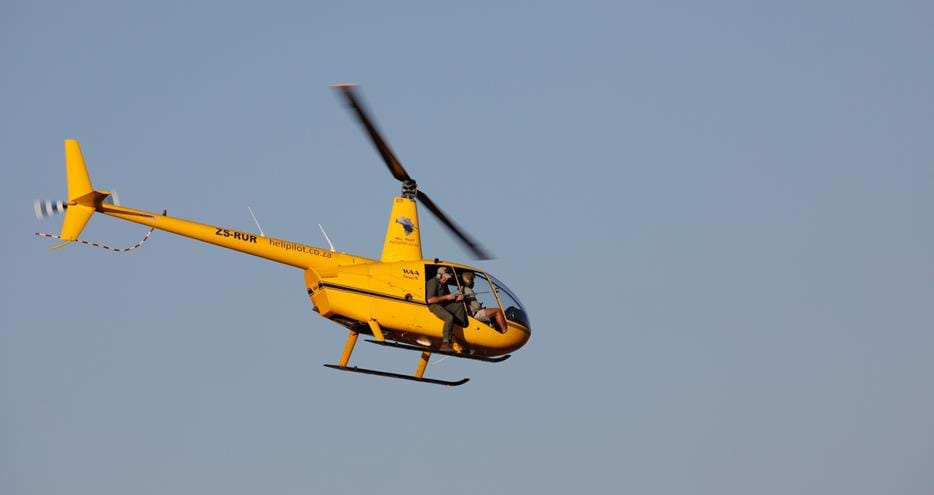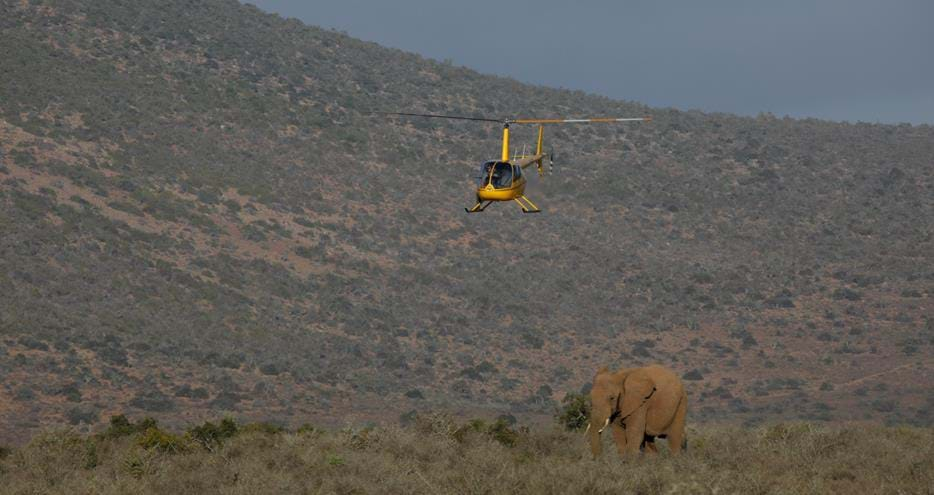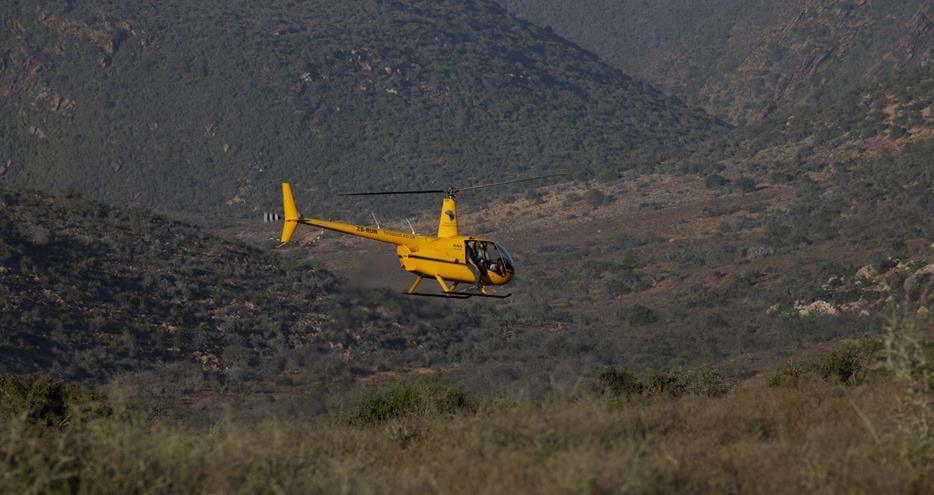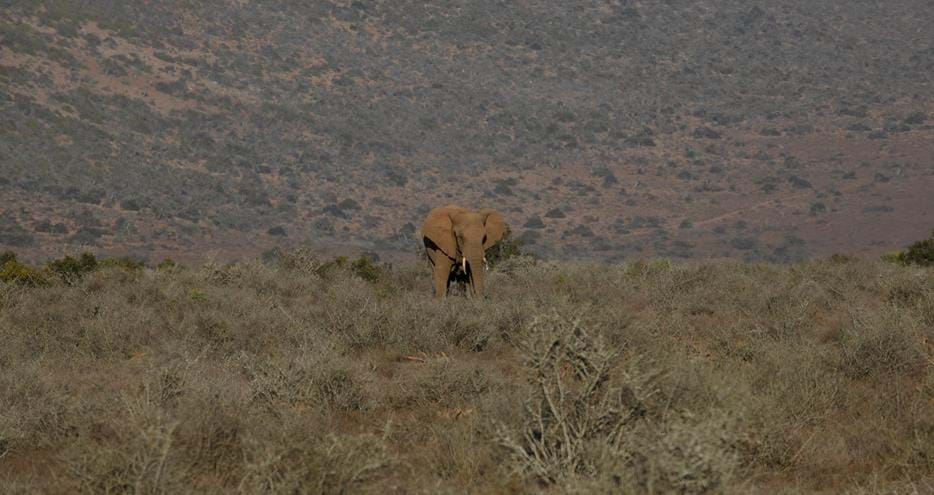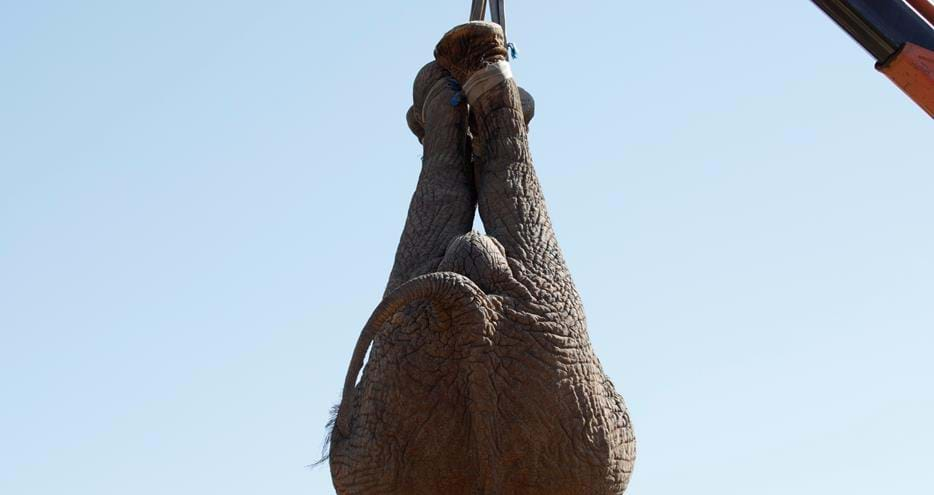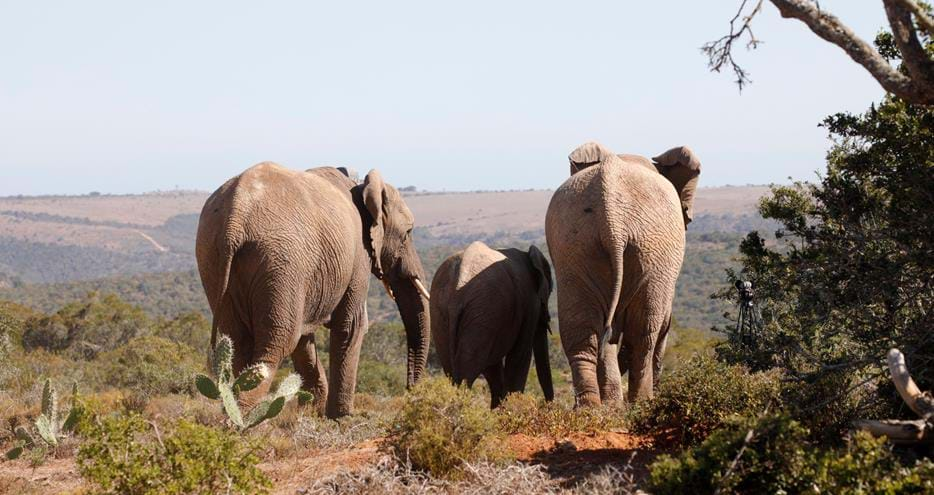 How You Can Help
The work carried out by The Aspinall Foundation is only possible with the support of individual donors. You can join us and not only support this incredible project, but also allow us to continue rescuing animals in need in South Africa. Please donate now and help us to protect wildlife.
Donate today
We are proud to be registered with the UK's Fundraising Regulator.