Terms and Conditions
Welcome to Port Lympne Hotel & Reserve – a wonderfully wild safari experience set amongst 600 glorious acres of sprawling Kentish savannah.
We are devoted to the conservation of rare and endangered species and creating authentic safari experiences that educate and inspire our visitors, year after year. Exciting days out and unforgettable short breaks for the whole family start here. 
Explore our stunning parkland – a natural, protected paradise and home to over 900 animals. And if you are not ready leave at the end of the day (who would blame you?) we also have a range of unique accommodation options, from cosy cabins to luxury lodges, where you can relax in comfort and style, surrounded by natural wonders. 
These T&Cs set out how to book your visit and what you can expect. Read them carefully, get in touch with any questions, and most importantly, enjoy the unrivalled magic of your Port Lympne Hotel & Reserve experience. 
Contents 
1.  Before booking your Short Break
A.  Before we start
Please read our Short Break T&Cs carefully, as together with your booking confirmation, and the entire portfolio of services and products we offer, they make up your agreement with us. 
We may need to update our T&Cs from time to time, but you can always find the latest version online here.
B.  Insurance
Please note that we do not offer travel insurance, but we advise that you take out this useful addition to your short break.
C.  FAQ
For answers to some of our most asked questions, read our FAQ.
D.  Contact 
For more information about our accommodation offer, contact our Short Breaks team on 01303 234112 or shortbreaks@portlympne.com
For more general information about the Reserve experience call 01303 264647 or email info@howlettsandportlympne.com
E.  Prizes and promotions
If you are contacting us to enquire about a particular deal or promotion, or offers that are available to certain types of people, professions, or organisations, you will need to be able to demonstrate that you qualify for the promotion by providing additional information or by quoting a specific reference code. 
Should you wish to use a Port Lympne Hotel & Reserve product as a gift, prize, part of a reward programme or other promotion, you must contact us before making your booking. We will set out the special requirements that apply. By booking, you will be deemed to have accepted these special requirements. You may not advertise, use, give or resell your break or any promotional discount or offer (for profit or otherwise) or use it in connection with a competition, promotion, business and charitable or any other similar venture without our express advance written permission. Please note our rights to cancel for breach of any terms in this agreement. 
2.  Booking your Short Break
A.  General booking terms
Visit www.portlympne.com or telephone our friendly Reservations Team on 01303 234 112 to make a booking. Full payment by credit/charge or debit card is required at the time of making your reservation. This may be online or by telephone. And please note that you must be 18 or older book.
B.  Your party
When you make a booking by phone or online, we will need to collect some personal information. This will include names, addresses, telephone numbers, and financial information. 
Sometimes we may need to collect more sensitive personal information to help us make provisions for guests with medical conditions or disabilities. We may also need information from a passport to satisfy statutory requirements.
If you enquire about a potential booking by phone, we will only use your personal information to assist you in deciding whether to make a booking. We will not use your personal information for another purpose without your consent.
If you want more information about how we collect and use your personal information, please refer to our Privacy Notice which can be accessed from the home page of our website.
If the person making the booking is not a member of the party staying, we will need details of a lead party member. Failure to provide us with full details of your party before your arrival may result in access to your accommodation being delayed or denied. We want to maintain a safe and secure environment for you and your family and may ask for identification on arrival.
We reserve the right to conduct security searches of clothing, bags and vehicles upon entry and exit to keep you and other visitors safe. 
C.  Special requirements and disabilities
We want to ensure that our Reserve is an inclusive and accessible environment for everyone and welcome guests with restricted mobility, disabilities, and medical or particular care requirements. 
To ensure that we can meet any specific needs, it is important that you let us know of any requirements and conditions that members of your party may have when booking. Please call our Short Breaks Team on 01303 234112 or email shortbreaks@portlympne.com to discuss your options. 
A risk assessment may be required before confirming a booking or participation in certain leisure activities. We rely on the information you provide to help us anticipate and satisfy your needs. We therefore ask that you to update us with any change in circumstances prior to and during your stay. 
We recommend that you advise a member of staff able to perform first aid of any other special medical circumstances, for example if a member of your party has a terminal illness. Such information will be treated sensitively.
D.  Illness and contagious diseases
You should inform us immediately if, within four weeks prior to your arrival date or during your break, any member of your party has, or develops symptoms of, an infectious or contagious medical condition. If so, we have the right to: 
Decline or reschedule your booking
Ask any member of your party to refrain from taking part in certain activities
Ask any member of your party to leave our accommodation and reserve immediately, if we feel it is necessary to protect the health of other guests, our staff, or the general public. 
E. Groups, organisations and institutions

If a party or a booking consists of more than one accommodation unit and/or includes members from an organisation/institution or those benefiting from activities organised by third parties such as charities, local authorities, NHS trusts etc, you must provide the name of the organisation (if applicable) before we can confirm your booking, in order to link your groups and bookings. 
If most of the party is under 18, there must be sufficient capable and responsible adults over the age of 18 in every accommodation unit to provide adequate supervision for the party. One such adult must be present for the duration of the break and accept overall responsibility for the whole party. The name and contact details of this person must also be confirmed on arrival at check-in. If we incur costs by assisting or supervising your party, we reserve the right to claim compensation from you. 
Any celebrations or occasions such as stag or hen parties must be disclosed at the time of booking due to the family style accommodation and age range of our other guests. Fancy dress is only available upon request and balloons are strictly prohibited on the Reserve.
F.  The price of your break
You can find the most up-to-date prices for accommodation on our website. Any prices shown on our website or other communications are subject to regular review and may change. This includes special offers at the point of sale. The agreed price for your break will be quoted when you make a reservation and will be shown on your booking confirmation. 
G.  What this price includes
Use of your accommodation for the maximum number of guests we indicate on a room-only basis unless otherwise stated.
Any other amenities or services described as included in the price of your break in the information provided to you at the point of confirmation.
H.  What this price does not include
Use of facilities and activities not included within your break, for example animal experiences, or off-site activities offered by our vetted partners.
Guaranteed access to any of our safari routes or vehicles.
Telephone charges are free for Short Breaks guests however international or premium numbers will be charged. Call charges are available on request. You must have a debit or credit card to open and use telephone facilities where provided.
Meals, unless part of your Short Breaks offer.
I.  Tax and price promise
All relevant prices include VAT at the appropriate rate at the time of booking.
J.  Payment confirmation
Please check the details on the confirmation carefully. If any of the details are incorrect, or need changing, you must inform our Short Breaks Team. Credit/charge and debit cards will normally be authorised and charged to your account upon confirmation of the booking.
K.  Our agreement
A contract (our agreement) is formed when we receive the required payment and your booking is completed. If you do not receive a confirmation within this timescale, please contact us immediately. 
As stated above, our agreement incorporates the entire portfolio of the services or products we offer, your booking confirmation, and these T&Cs. Our agreement binds you (the booker) and all members of your party, including children and any day visitors. You must ensure that all members of your party are aware of, and accept, this entire agreement. 
Our agreement continues until the last member of your party has left Port Lympne, including any extension to your stay and for such time afterwards as may be necessary. We will send confirmation via email of the price for your break and any additional charges. It will also detail any payments received and due.
L. Pay in instalments Payments
Deposit payment breakdown:
33% of the total value of the booking is required at the point of booking.
The second payment of 33% is required 20 weeks prior to arrival.
The final balance (34%) is due 10 weeks prior to arrival.
Arrival dates over 10 weeks but less than 20 week a 66% deposit will be due at the point of booking.
Full balance would be due for bookings within 10 weeks of arrival.
Supplementary terms
By selecting pay in instalments, you are agreeing to all standard terms and conditions with variations to the amendment and cancellation terms.
Bookings made through pay in instalments are non-refundable from the point of booking.
Bookings made through pay in instalments options are non-amendable from the point of booking including amending arrival date.
Once booking is confirmed the payment due dates and payment method are non-amendable.
Prepayments are required to be made in accordance with the payment plan. We will send reminders for scheduled payments due to the e-mail address provided at the time of booking at least 2 days before payment due date.
Failure to pay an instalment upon receipt of notification will result in your bookings being cancelled and balance paid forfeited.
We reserve the right to withdraw pay in instalments as a valid payment option at any point without notice and exclude from any promotional activity.
3.  Before you arrive
A.  Before you arrive at the Reserve 
We recommend that, where possible, you pre-book any activities and all your dining reservations to avoid disappointment. 
Please check our website www.portlympne.com before you leave home for the latest information that applies to your break. 
We cannot wait to welcome you and your party to our Reserve for a relaxing Short Break that immerses you in the wonders of the wild. To ensure you enjoy your stay with us, we ask that you comply with all the requirements in this agreement, particularly with regards to the safety guidance and other information you will receive on or before arrival. 
4. While you are here: Accommodation
A.  Arrival
To help minimise our carbon footprint and reduce traffic, we recommend that no more than two cars per accommodation are parked in the on-site guest car park. 
There are restrictions on the access and parking arrangements for larger vehicles. Please contact our Short Breaks Team for further information. Caravans, campers and/or mobile homes can be parked by arrangement in our off-site car park. Under no circumstance can caravans, campers, mobile homes or tents be used for sleeping overnight onsite or in the carpark. 
Depending on the accommodation you have chosen, your stay may include the complimentary use of one of our golf buggies to assist you and your party when moving around the Reserve. The designated driver of the golf buggy must show a valid driving licence to a member of our staff on arrival. The T&Cs for the use of our golf buggies can be found in Appendix A.
B.  Payment pre-authorisation
Upon arrival we will ask for a physical credit or debit card to pre-authorise any payments. Any outstanding balance or charges are to be settled in full by check out time.
C.  Accommodation units
We ask that your treat your accommodation and its contents with care and leave it in a clean and tidy condition on departure. If your accommodation needs extra cleaning after your departure, or if there are any missing or damaged items, you will be charged. We also reserve the right to enter your accommodation at any time for any reasonable purpose. This might be when conducting checks, maintenance work or housekeeping. 
The number of guests in each accommodation unit must remain the same for your entire stay. Additional guests in your party not listed on your original booking will need to purchase Reserve tickets and will not be allowed in the accommodation. If you exceed the maximum number of guests allowed in a unit, we may move additional guests to another accommodation and charge you or them, from the date your party arrived.
D.  Departure
All great things must come to an end. At the end of your break, you must vacate your accommodation and return any golf buggies by the time stated on your booking confirmation. Please return your keys to Guest Services. You are welcome to continue to enjoy the facilities on the Reserve throughout your day of departure, but you must leave when the Reserve closes to the public.
E.  Facilities and activities
We offer a range of facilities and activities which you may purchase separately. These are detailed on our website, in your in-room browser and through our online booking service. These may be booked before your break or following your arrival by visiting our reception desk in the Mansion Hotel or Guest Services. 
All facilities and activities (including those contained within the price of your break) are subject to availability. We operate a 'first come-first served' policy, so cannot guarantee that you will be able to book a particular facility/activity for a specific time, or at all. Activities that take place outdoors are weather dependent. You will receive specific T&Cs for facilities and activities upon booking. 
Our animals have the freedom to roam and do as they please, and their appearance during an activity is not guaranteed, but every effort will be made to ensure the activity goes ahead. During winter months, the programme of animal experiences may be limited. Additional animal experiences may be available from time-to-time and will be advertised. 
All animal experiences have a minimum age requirement, and we may ask for proof of age. Children under the age of 16 must be accompanied by an adult aged 18 or over (excluding our Keeper Academy experience). 
Please ensure the experience is suitable for the age(s) of any children in your party. If the experience is suitable for all ages, children aged 0-2 do not need to pay, but must have a ticket. Please contact 01303 264647 or info@howlettsandportlympne.com to add a complimentary infant ticket. 
There must be at least one adult over the age of 18 participating in any experience (unless otherwise stated). 
5. While you are here: Reserve
A.  Our animals
As an organisation that promotes the conservation of a variety of endangered species, the safety and wellbeing of our animals is one of our main priorities, and something we are very passionate about. 
As wild animals, their behaviour may be unpredictable; therefore, you should never enter (including extending a hand, arm, foot, leg or other bodily part) an animal enclosure unless by prior arrangement and under the strict supervision of an animal Keeper or Ranger. 
If you see an animal you think is injured, ill or distressed, do not intervene yourself. Notify a member of staff as soon as possible. They will alert the veterinary team. 
Our animal enclosures are constructed in accordance with strict safety requirements and our operating procedures are assessed independently every year. In the very unlikely event that an animal may present a risk to our guests or staff, we have specific contingency plans which will be activated. In those circumstances, staff will provide you with directions and advice, which must be followed at all times. 
During colder periods (e.g., winter and shoulder months depending on the weather and temperature) some animals may be kept within enclosures for their wellbeing. This means that you may not be able to see them during your visit. 
B.  Your animals
To protect our animals and your own, dogs and visiting pets are not allowed on the Reserve, except for registered assistance dogs. You must not, under any circumstance, leave dogs or other animals in cars onsite as it can severely impact their health. If you do bring unauthorised animals to the Reserve, you may be refused access. Please see our full policy here.
C.  Behaviour and compliance with this agreement
As the main booker, you are responsible for the behaviour of all members of your party. Behaviour should be sociable and family-friendly, with no excessive noise or disruption, especially at night. 
Offensive or illegal behaviour will not be tolerated and may result in police involvement. Offensive or aggressive behaviour or language towards our staff or the animals in our care is not acceptable. We may ask you and/or any member of your party to leave immediately if we consider your conduct to be inappropriate, or likely to cause harm or impair the enjoyment, comfort, or safety of anyone. No refunds or compensation will be given in these circumstances, and we reserve the right not to accept any future bookings from you or any member of your party. 
D.  Alcohol and prescribed drugs
Our restaurants and bars are licensed in accordance with UK Licensing Regulations. We must comply with these regulations at all times. 
We shall not serve or allow the consumption of alcohol to anyone who is, or appears to be, under the age of 18 (and cannot prove they are over 18), or whom we, in our sole discretion, consider to have been drinking excessively. We will accept a photo driving licence, a passport, or a proof of age scheme which carries the PASS logo hologram. 
We acknowledge that the moderate consumption of alcoholic beverages during your visit is perfectly acceptable, and if you are bringing alcohol with you for consumption during your visit, the amounts should be limited to what might reasonably be expected to be consumed by each member of your party. You may not consume alcohol brought to the Reserve by you in our bars, restaurants, or other public areas. You are required to remove any alcoholic beverages from your accommodation when checking out. 
Unless prescribed by a doctor or other qualified medical practitioner, you are not permitted to bring any controlled drugs or substances onto the Reserve, or into our accommodation.
Our staff are empowered by UK legislation, and these T&Cs in certain circumstances, to seize any alcohol or other substance that they consider might breach UK legislation or our T&Cs. They reserve the right to involve the police if necessary, and any alcohol seized will be returned to you when you leave the park.
E.  Children's supervision
There must be at least one capable and responsible adult over the age of 18 in every accommodation unit. You are responsible for the supervision of all members or your party under the age of 18. This is particularly important in all children's play areas, in licensed areas, when close to waterways and viewing our animals, and when near large service vehicles. Adults leading parties with children who do not appear to have reasonable supervision of, or control over, the children's behaviour may be asked to put appropriate arrangements in place or to leave the relevant facility. Children's activities are unsupervised unless otherwise stated.
Pushchairs are not permitted when using our Truck Safari Experience. A suitable pushchair parking area is provided for your use whilst participating in this experience. Our Reserve spreads across a large natural environment which includes hills, slopes, and some unmade paths and tracks. Please take all reasonable steps to avoid placing a child in a pushchair/buggy when it is either facing downhill or on uneven ground, and use the brake if fitted.
F.  Child protection
It is our policy to investigate any incident or allegation of concern or assist any proper enquiries about a child in our care or staying at one of our accommodation units and to refer the matter to an appropriate external organisation should we consider it necessary/appropriate.
G.  Safety and security
The security of our Reserve and accommodation and the safety of our visitors is our absolute priority. We use CCTV in some public areas and physical access controls to keep our buildings and facilities secure. 
We ask for your cooperation to exercise some personal responsibility by being mindful of the following: 
Please do not enter or attempt to use any facility that is closed.
Under no circumstances should you enter an animal enclosure unless authorised to do so and accompanied by one of our animal Keepers or Rangers.
In the unlikely event of an animal escape, please be prepared to be moved to a place of safety or asked to stay in your accommodation.
Please do as the Reserve staff advise at all times.
Please be aware that service vehicles operate across the Reserve at all times.
Our Reserve covers a vast, natural area. If you notice any potential hazards, please report them to a member of staff.
We are also aware of our statutory obligations found in the Hotel Proprietors Act 1956.
We draw your special attention to the following:
Your personal belongings are your responsibility during your Short Break with us.
We suggest that you keep any valuables with you, or secure and out of sight when left in your accommodation.
If you discover a security risk or lose a valuable item of property, notify a member of staff as soon as possible.
Vehicles parked at our main customer car park are in an area with public access whilst the Reserve is open.
You must lock your vehicle securely and remove all valuable items after parking.
We accept no liability for any accident, loss, or damage to your property unless such loss, damage or accident is due to our negligence or those for whom we are legally responsible. We will assist you in finding any lost items, but please note that we can only keep lost items for 30 days.
H.  Drones
The use of drones, powered model aircraft and gliders is not permitted on site as their use may distress our animals. In certain circumstances, and subject to us granting written authority, the use of a drone in accordance with CAA regulations may be allowed with limited permissions. 
Likewise, powered and human propelled methods of transport including (but not limited to) bicycles, tricycles, cars, scooters, etc are strictly prohibited on any roads, tracks and paths in the Reserve.
I.  Image rights
Our Reserve offers unique opportunities to capture breathtaking photos on cameras, smart phones, and other devices, and we encourage our visitors to do so. We ask that the images are shared only for personal use. 
When capturing photographs or videos in a commercial capacity or otherwise, you will need to fully comply with each or any of the following clauses: 
Before posing for images with members of our staff, or if you think they might be in shot, please ask for their consent first.
You are not permitted to capture photographs or video within our Reserve, its accommodation or facilities for personal gain or any other commercial activity, unless authorised by ourselves in a written contractual agreement beforehand.
If we authorise the capture of photographs or video, we retain the intellectual property rights, and reserve the right to claim a percentage of the sale of any images. We also have the right to prevent the publication of any such image used in a manner that might unreasonably portray a false representation of actual events or be detrimental to the reputation of The Aspinall Foundation, the Howletts Wild Animal Trust and Howletts and Port Lympne Estates Ltd.
We may commission professional photographers, film crews and the media to work on the Reserve from time to time. You will not intentionally be included in any pictures or video footage unless you are happy to be. If you believe that your image has inadvertently been captured without your consent, please make it known to those responsible to arrange for your image to be removed.
We hold the image rights and copyright for all images and material published on our website, promotional products, and merchandise. You may not copy or reuse this material without gaining our permission.
Any person found to have violated any part of this clause will be required to leave the Reserve. No refunds will be given, and we reserve the right to refer the matter to a court of law.
J.  Food and drink
Whether you are in the mood for classic family favourites, authentic Italian cuisine or something a little more elegant, our Reserve has an array of delicious dining options for you to choose from. 
Food, drinks, and other supplies are provided subject to availability and are not guaranteed. We strongly advise that you book breakfasts, lunch, or dinner prior to your arrival. We offer a first come-first served policy and cannot guarantee set times or availability in our restaurants. Any issues concerning your dining experiences should be directed to the restaurant Manager/Supervisor in the first instance. 
The use of the food and beverage outlets is not an inclusive perk of a Short Break booking. Service styles may change from a sit-down restaurant experience to in-room dining/takeaway depending on where you are staying.
K.  Environment
Please keep to marked roads, paths and tracks at all times We also ask that you treat all property and facilities considerately and take any rubbish away with you.
L.  Smoking and vaping
Smoking and vaping are not allowed within any accommodation, catering unit, restaurant, covered terrace, or building. 
You may not smoke or vape during any animal encounter, whilst on the Truck Safari Experience, or within any park vehicle. 
There are no designated smoking areas throughout the site, and we ask that you find a quiet area away from animal enclosures if you do smoke. And please always be considerate of other visitors, particularly children.
M.  Fire prevention
The use of barbecues is strictly prohibited. As is the use of Chinese lanterns and any other devices such as fireworks, explosives, or any other flammable material. 
If you detect smoke or fire, please alert a member of staff immediately.
N.  WiFi
As a nature reserve, we encourage visitors to connect with the wonderful wildlife around them and share their experiences with friends and family online. To make this even easier, we offer free WiFi onsite. The login details are as follows:
Network: PLGuest
Password: welcome1a
Our network has limited filtering measures and security, so we recommend parental supervision when used by children. We reserve the right to disclose your name and address to our internet service provider if we discover that you or a member of your party has illegally downloaded content from the internet or engaged in unlawful activity whilst using this facility.
O.  Improvements and maintenance
 As we continue to make exciting improvements to our Reserve, you may find that:
New experiences are on offer.
Listed facilities are temporarily closed for maintenance and/or improvement.
Some facilities and/or accommodation types have been altered, replaced, or closed.
Different equipment is provided to what is described in our brochure or other communications.
There is development or refurbishment work going on in certain areas of the Reserve. Whilst we aim to minimise the impact of such work, you may experience noise and visual disturbance. Please note that routine maintenance work is only carried out during the hours of a normal working day.
Maintenance work is happening in and around your accommodation during your stay. In such circumstances we will try to minimise any inconvenience.
 P.  Driving
Other than when arriving or departing our car parks, you may not drive your own car on our Reserve. Our own vehicles operate around the Reserve and selected accommodation options also include the use of a private golf buggy for the duration of your stay. The T&Cs for the use of our golf buggies can be found in Appendix A. 
Please take great care when driving. Give way to pedestrians and Reserve vehicles, keep to the left, and travel within the 5mph speed limit. Please be aware that barriers are in place to prevent unauthorised parking and damage to the roadsides. 
Please only park in designated areas. There must always be access for emergency services and the Reserves' maintenance vehicles. We will not be liable for any damage caused to your vehicle if it is not parked in a specified area and is obstructing an emergency service vehicle. 
We are not responsible for the security of any vehicle at any time – all vehicles are left at the owner's risk.
Q.  Wheelchair access
We have a limited number of wheelchairs available on site for the use of our Short Break guests. These must be booked in advance. A shuttle service is available to assist guests who have accessibility requirements that limit or prevent their travel around the Reserve on foot. Each guest requiring this service may be accompanied by one member of their party.
R.  Natural inhabitants
Please note that our Reserve is spread across a wide natural environment and is home to a diverse array of wild native creatures. This is beyond our reasonable control.
S.  General aviation
Some guests or services may arrange to arrive or leave by helicopter. When they do, a supervised designated landing area has been established. You should keep clear of any designated area when helicopters are about to land or depart and follow the advice of staff at all times.
T.  Compensation
By booking, you agree that we have the right to recover from you the costs of:
Any property or accommodation damage, and/or any compensation we may pay to others, and/or any other costs, fees or levies which we may incur, resulting from your, or any member of your party's action or inaction and from any breach of this agreement.
6. Changing or cancelling your plans
A.  Changing your booking
You can change your booking for any reason if the change is made 10 weeks or more before your arrival date. Please contact our Reservations Team to do so. If you change the date of your booking, the cancellation terms are based upon the original arrival date. 
The price payable is the greater of i) your original break cost; or ii) the price for your revised break change which applies at the time of your change. No difference will be refunded except where a change of date results in a lower price. 
Each change is subject to availability and an amendment charge to cover our administration costs. You may only change your start date once, and you must select your new start date within 8 weeks of requesting the change. Otherwise, the change will be treated as a cancellation and charges will be applied (see paragraph B). 
You may not, under any circumstances, transfer your booking to anyone without our consent. We will not consent to a transfer where the person or party concerned does not meet our requirements.
B.  Cancellation by you
You may cancel your break at any time. However, we will recover our administrative and transactional costs if you do so. These combined costs amount to 10% of the cost of each individual booking. 
| | |
| --- | --- |
| Number of weeks before arrival date that notification is received | Entitlement |
| More than 10 weeks | Refund in full – minus 10% cancellation charges |
| Between 6 and 10 weeks | 50% refund |
| 6 weeks or less | No refund |
We will only accept cancellations made in writing sent by email to our Short Breaks team at shortbreaks@portlympne.com. The date we receive your written cancellation will be used to calculate the notification period.
Please note that some separate charges, such as credit/charge card charges, are non-refundable.
Different terms apply when cancelling activities. These terms will be outlined at the time of booking, and when you arrive at the Reserve. You can also find them on our website.
C.  Cancellation and changes by us
In the unlikely event that we need to make a change to your booking, we will do our best to exchange for a similar priced experience, or upgrade you to another type of accommodation. 
Due to the unique nature of our Bubble accommodation, it may be necessary for us to cancel or move your booking in extreme adverse weather conditions for your own safety. Where possible we will move your booking, or upgrade you to another type of accommodation. 
If we are aware that:
The Reserve will be closed for a period that would affect your stay date, we will:
Contact you prior to your arrival and offer alternative arrival dates.
Ensure that the deposit paid is automatically converted to a credit account.
Chat through your options and next steps.
Compensation will not be offered for a reduction in additional experiences or activities that have not been reserved or confirmed by us.
D.  Refunds
Refunds can only be made to the credit or debit card used to secure the booking.
Refunds are not redeemable against accepted credit accounts or vouchers.
E.  Reserve credit
In the event of the Reserve being closed for any period, we reserve the right to suspend your reservation, hold the deposit as credit, and notify you of this in writing via email. Acceptance of credit will be automatically applied 14 days after notification. 
You may choose to amend your reservation and the value of the deposit paid to credit. This must be done in writing to shortbreaks@portlympne.com.
Credit is valid for 12 months from confirmation. This may be extended at a manager's discretion.
F.  A few things to note
We are making exciting upgrades to the accommodation at our Reserve as part of a rolling programme. If your chosen accommodation is not available at the time of your stay, we will offer you another option. 
Images on our website and across our promotional materials are for illustrative purposes only. 
We do our best to ensure that information is correct when published. Please see our website for the most up-to-date information.
Should any part of this agreement be deemed by law to be void, the remainder of this agreement will, if feasible, continue in full force and effect. The headings in this agreement are included for convenience only and shall not affect its interpretation or construction.
In all cases, except personal injury or death, our liability to you for the total of all claims arising out of your break with us is limited to the cost of your booking less any cancellation, amendment, or separate charges. We will not be responsible for any matters that result from any unforeseeable events that are beyond our control.
Your stay will not give rise to any tenancy agreement between us.
G.  Can we help?
If you have any queries or concerns or need any help during your stay, let us know by approaching a member of staff or Guest Services. We will aim to respond as quickly as possible so that you can continue to enjoy your break. Please note that we are not responsible for any matter you are aware of and do not bring to our attention during your break. 
If there is any issue that is not resolved during your stay, please write to the Customer Services Team at Port Lympne Hotel & Reserve, Lympne, Nr Hythe, Kent, CT21 4PD within 28 days of the end of your break. In such cases, we will only correspond with the person named on the booking. We will not correspondence on any matter resolved during your break and accepted as such by you. If you have any questions, we will be glad to assist you. Please contact our Customer Services Team on 01303 234141 or email customerservices@portlympne.com.
7. Thank you and enjoy your stay
We look forward to welcoming you and your party for a unique wildlife experience.
Appendix A
Golf buggy - conditions of use 
Depending on the accommodation you choose, we can provide golf buggies to help you get around the Reserve. Here are some rules to help you enjoy the experience whilst keeping your party and other Reserve visitors safe.
Permission to drive
Golf buggies may only be driven by guests with a full UK Driving Licence for a Category B motor vehicle (family car) or Category B automatic. A valid licence must be produced on arrival for examination before you will be handed the keys to the buggy or instructed how to use it. 
Holders of a provisional licence for this class of vehicle are not permitted to drive, even when supervised. This rule applies to any member of a group or party who wishes to drive a golf buggy during your stay. 
Under no circumstances should a golf buggy be driven on public roads. 
You may not drive a golf buggy within our Reserve having consumed alcohol or prescribed drugs over the limit as applicable to public roads and public places.
Driving the golf buggy
Once you and your party have checked in, and the named drivers have had their licences examined, a member of staff will show you how to operate the golf buggy. This will include how to start, stop, and safely park the vehicle when not in use. For your safety, you will be asked to confirm you've watched our golf buggy video either prior to, or on arrival. 
The basic workings of a golf buggy are like a conventional motor car, but it weighs much less and does not have the exact same controls. Also, when driving, please remember that the roads and pathways within our Reserve are uneven and some cross hilly terrain. 
When driving, follow the basic rules of the road found in the Highway Code. Keep to the left when using two-way roads, and be mindful of roads or paths marked as one way. 
Take care to park on an even level surface so that it is easier to enter and exit the vehicle. Try not to park across a camber or hill. 
Try to be considerate, courteous, and careful when driving or parking your golf buggy. You should be mindful of the safety of pedestrians, who always have right-of-way. 
Our golf buggies travel at no more than a fast-walking pace when moving on a level surface. You should try not to exceed this speed, even when coasting downhill. 
You should always remove the key and keep it in a safe place when the golf buggy is not in use. 
The driver is responsible for the safety of all passengers in the golf buggy at all times, ensuring that the vehicle's occupants remain seated when the vehicle is in use, that passengers use the grab rails to steady themselves when the vehicle is in motion, and that they remain fully within the confines of the golf buggy. 
The maximum capacity of a golf buggy is four people. Babies and toddlers aged 3 or below must be in carry harnesses on the front of the body when possible. Children over 3 years of age should be secured in their own seats. 
The use of any handheld device by the driver – including mobile phones, tablets, cameras or any other piece of equipment likely to distract the driver is not permitted whilst the vehicle is in motion.
When and where to drive
You will receive a map of the Reserve depicting the permitted golf buggy routes – please ensure that you always stick to them. 
When passing through electric or manual gates, please ensure they are fully closed before continuing your journey. 
You must not climb over any enclosure barriers or attempt to feed any of our animals. You must also not direct a torch or any light emitting device into any of the enclosures.
Golf Buggy Handover & Declaration Form
Accessibility
Our aim is to deliver an inclusive environment so that the experience can be used by everyone, regardless of age, gender or disability.
Accessibility Guide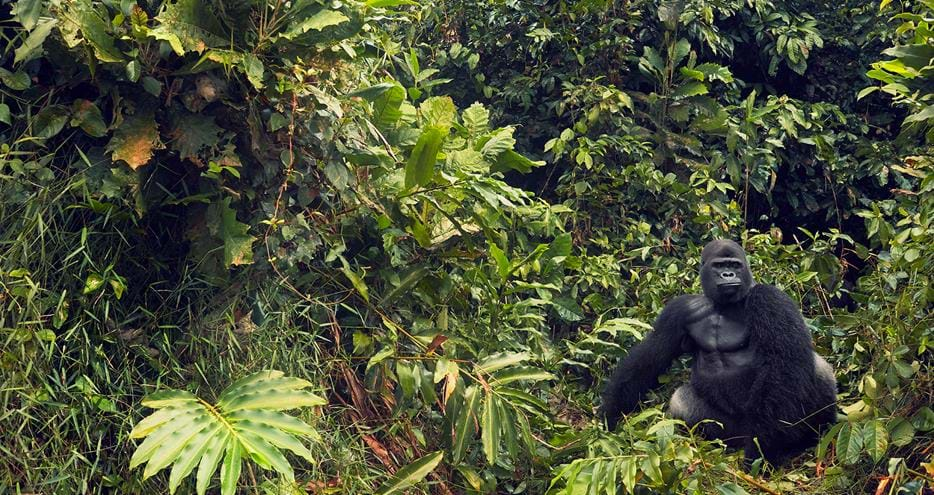 #BackToTheWild
With your visit and stay you contribute to our greatest mission, getting the animals 'Back to the Wild'. This initiative has already seen an impressive number of animals born at Howletts and Port Lympne returned to their natural habitats. Your help is vital for our worldwide conservation projects.