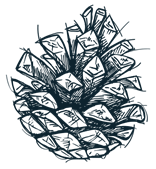 Camp in comfort at Pinewood Shepherds Hut
Camping doesn't have to be for adventurers only! With our exclusive Shepherds Hut set in the woods of Port Lympne, you can camp in style and get back to nature without compromising on comfort.
Perfect for a couples break or a family night in the wild, fall asleep with the sound of roaring lions and tigers or gather around the fire pit to toast marshmallows and spot the shooting stars.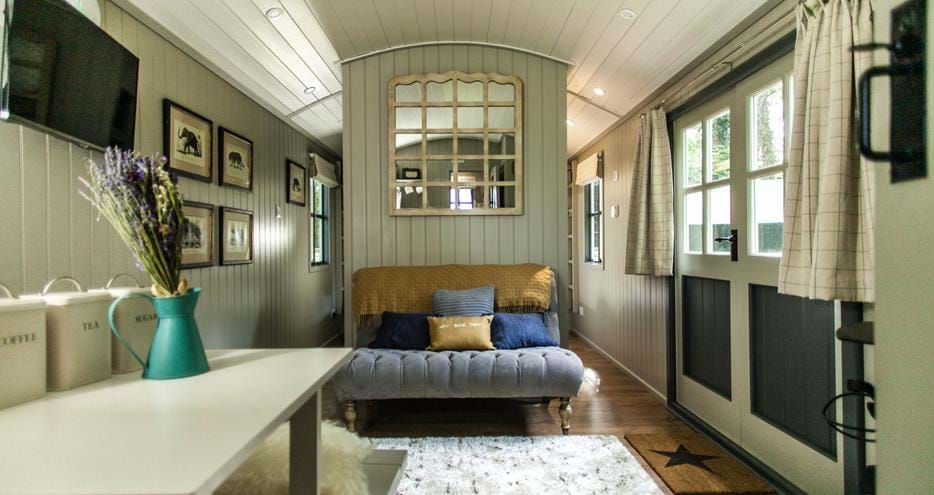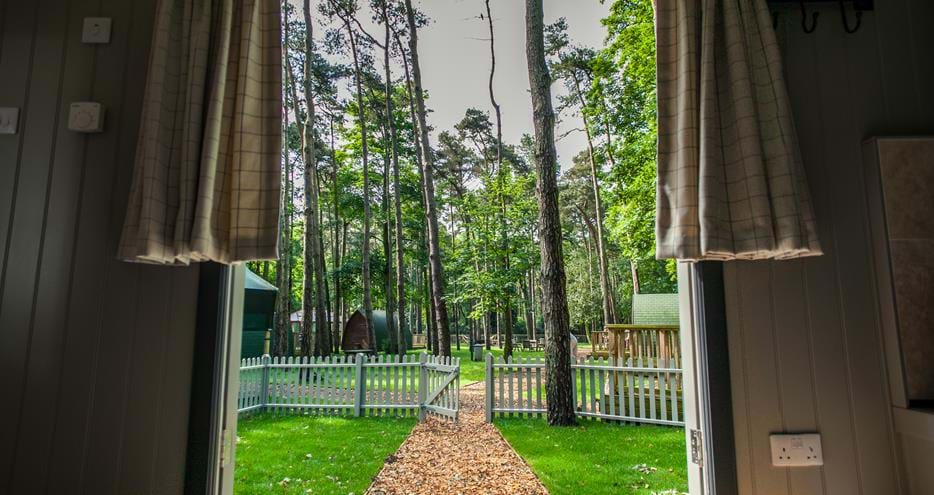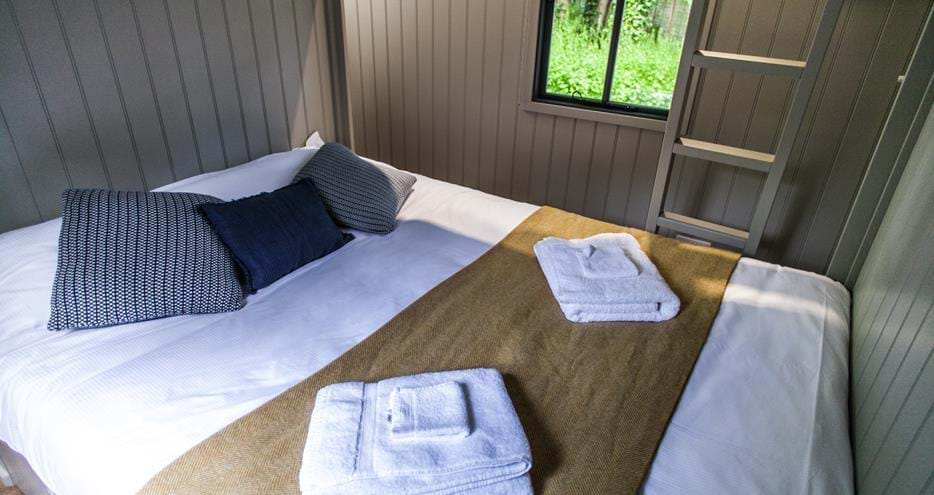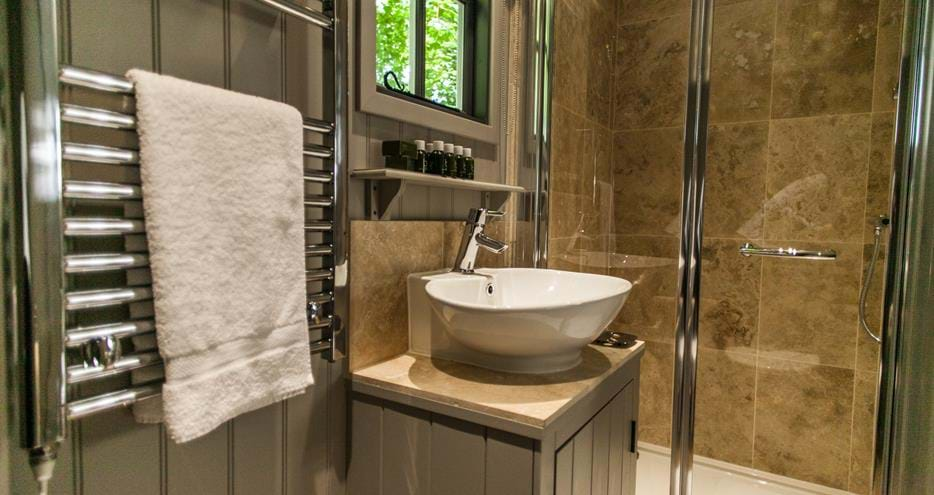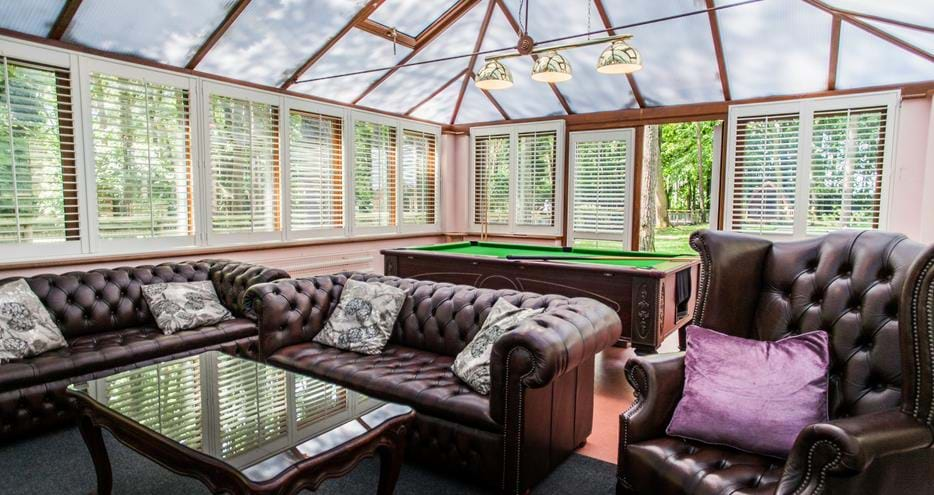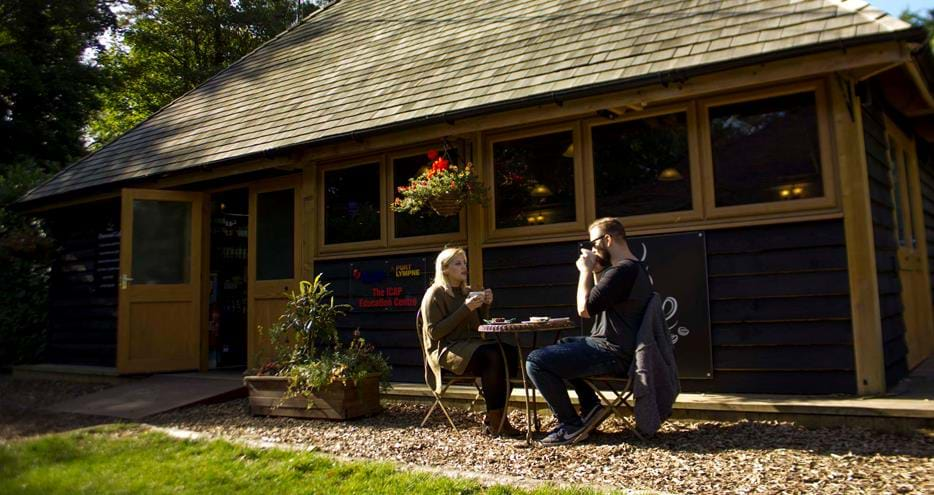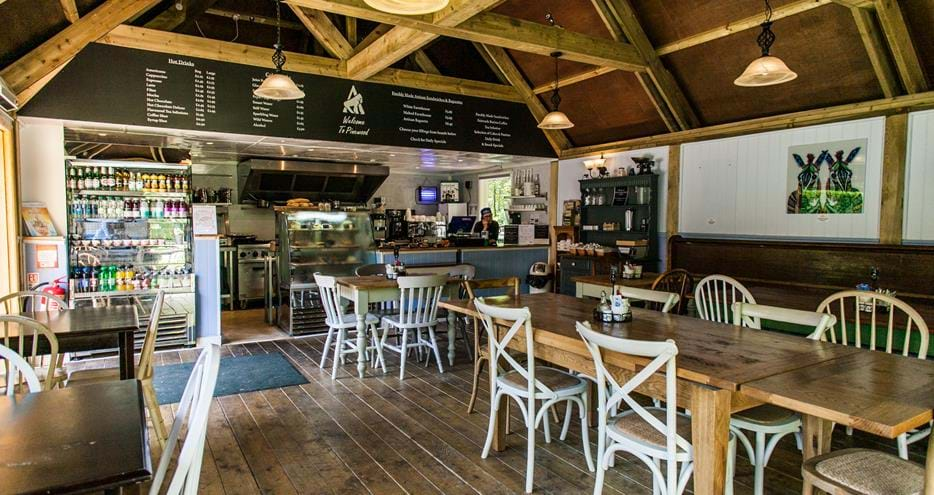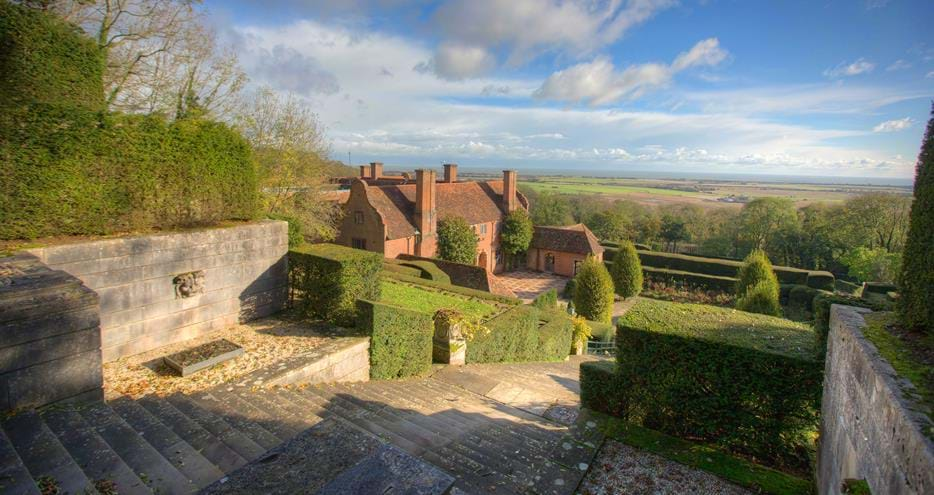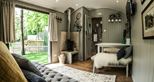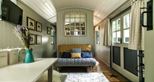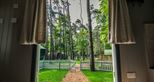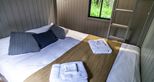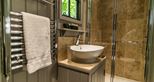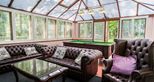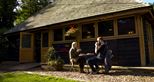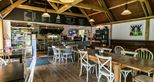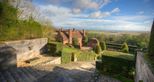 Shepherds Hut
Entertainment
Location
Exclusive Access
Safari experience
Eat and Drink
Pricing and booking
Shepherds Hut
Perfectly designed to sleep four in a double bed with overhead bunk beds, the stylish Shepherds Hut comes with all the creature comforts you could wish for. Enjoy en suite facilities with complimentary Bamford products. With under floor heating, a wood burning stove, sofa and TV, it's a home away from home.
Entertainment
Enjoy our games room with pool table and board games or toast marshmallows on our open fire pit. There's also plenty of entertainment around Port Lympne with hundreds of animals to see and the Dinosaur Forest to explore! 
Location
Our Shepherds Hut is located amongst the pine trees and just 50 yards away from lions and tigers. Set at the top of the park opposite our spacious lion habitat, you can enjoy spectacular views from the Trojan steps over the Romney Marsh to the sea. 
Exclusive Access
One of the perks of Pinewood is having access to the Reserve before the general public! See the animals at dawn and dusk at your leisure. Admission to our sister park, Howletts Wild Animal Park, near Canterbury is also included for the duration of your stay. Check in is at 3pm and check out is between 9 - 10am.
Safari experience
All of our short breaks guests have a safari included in the cost of their stay. Your safari will take you on an adventure through our South American, Asian and African Experience zones where you will see spectacled bears, giraffe, zebra, wildebeest, camels and more.
Eat and Drink
We serve home cooked food made with home grown and locally sourced produce at our restaurants and cafes. Or relax and soak up the wonderful atmosphere of the unique Moroccan Courtyard (open spring & summer) at Port Lympne Hotel. Enjoy breakfast, lunch and Afternoon tea or a romantic candlelit dinner.
Pricing and booking
Prices from £249. For more information, you can call 01303 234112 Monday to Sunday between 9am to 5pm, or fill in our simple online form at the end of the page and one of our team will be in touch. 
What's Included
Stay at Shepherds Hut for up to 4 people in a double bed with overhead bunk beds
Entrance to Port Lympne Hotel & Reserve and Howletts Wild Animal Park (from 9.30am on the day of arrival until closure on the day of departure)
Safari experience at Port Lympne Hotel & Reserve
Access to the park's

 

restaurants
Access to the games room with pool table and board games
Tea making facilities
Bedding is included
Free WiFi
Free on site parking
Meet your fellow residents...
Port Lympne Reserve is home to amazing wildlife and incredible views. See over 900 animals from 75 species at this award winning park. See the lions who live in close proximity to Pinewood, then explore the rest of the Reserve and see gorillas, bears, cheetah, giraffe and many more!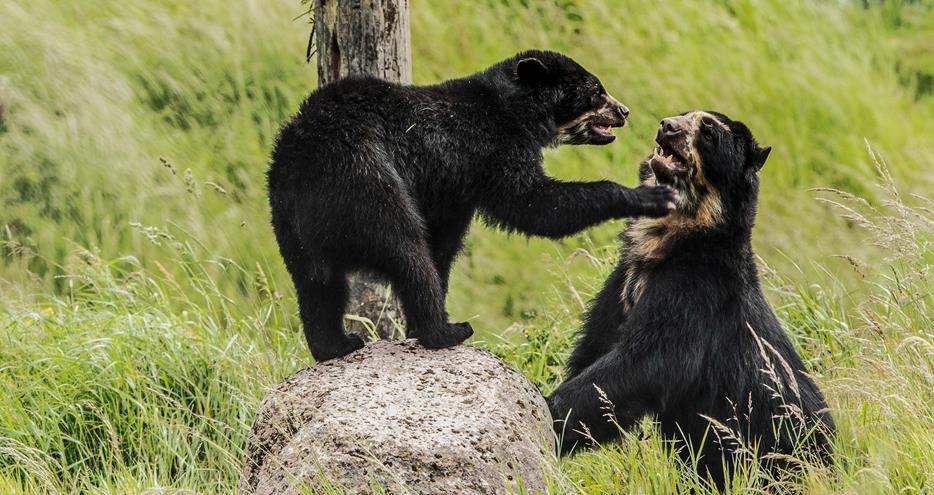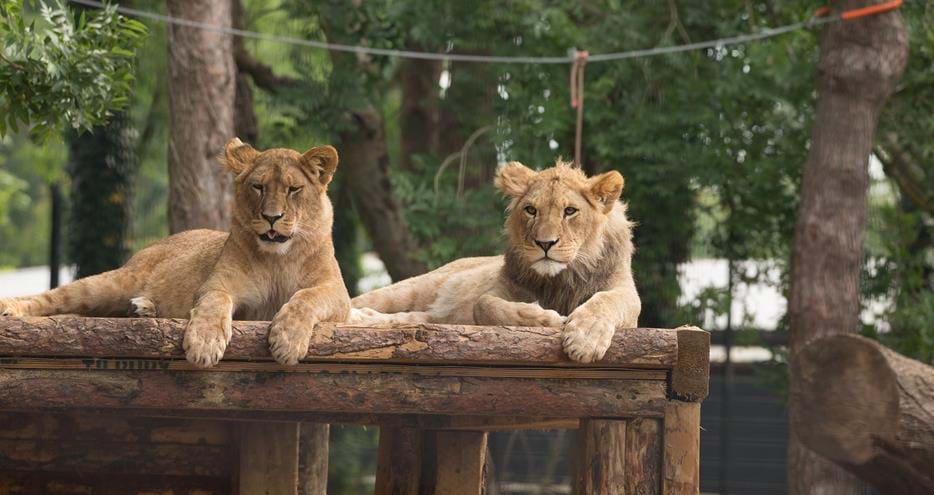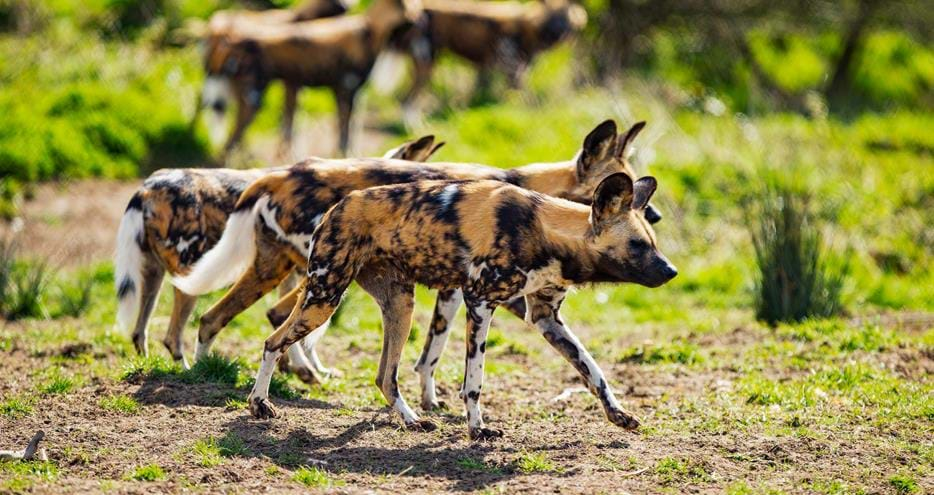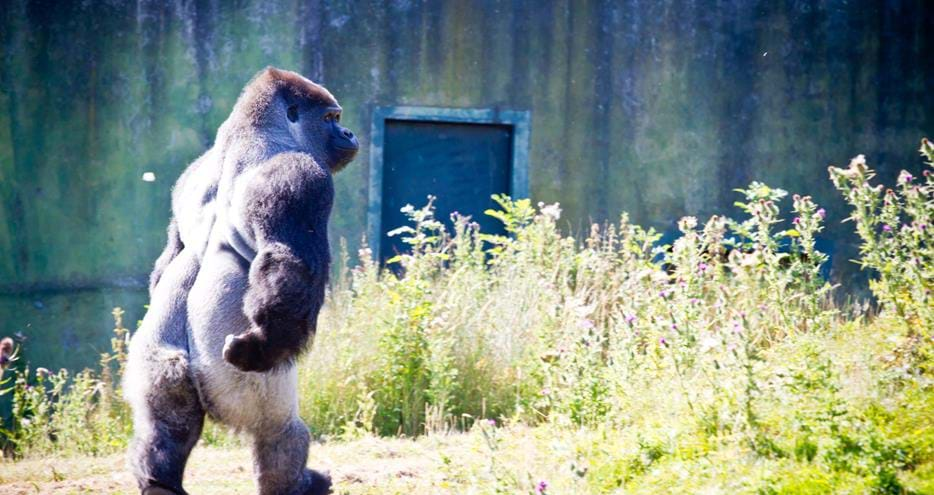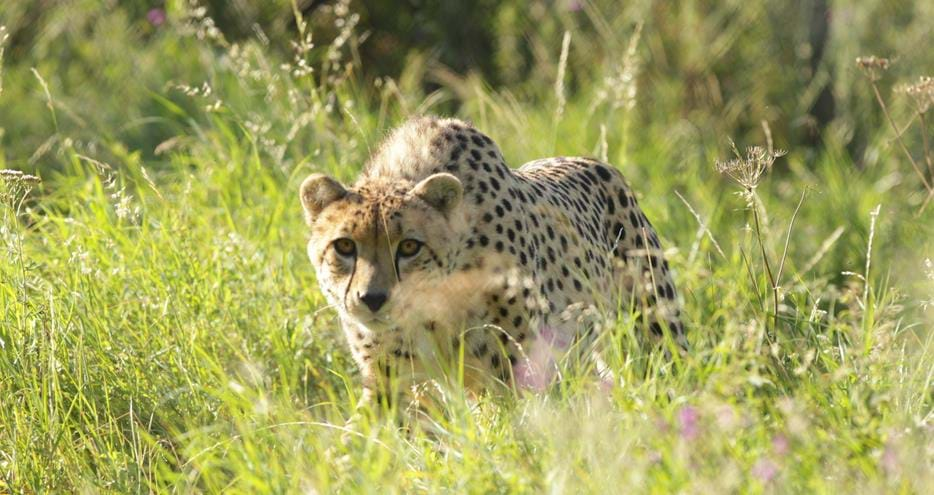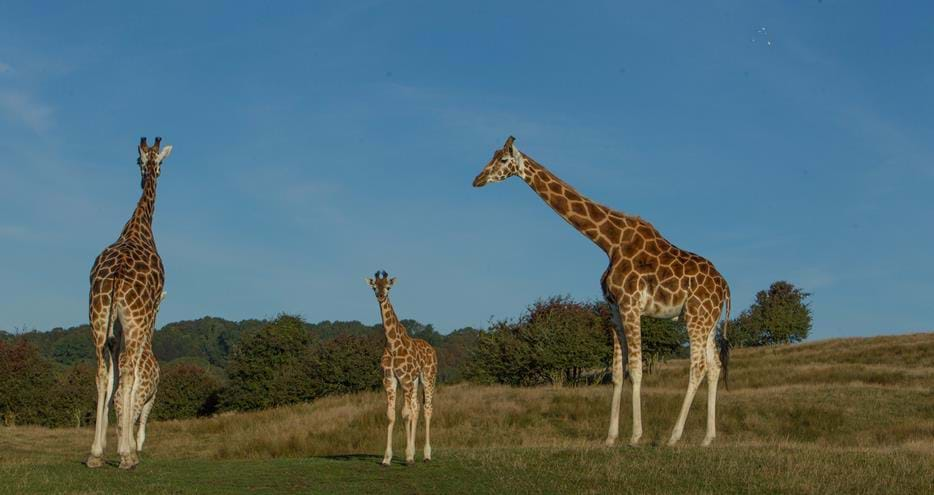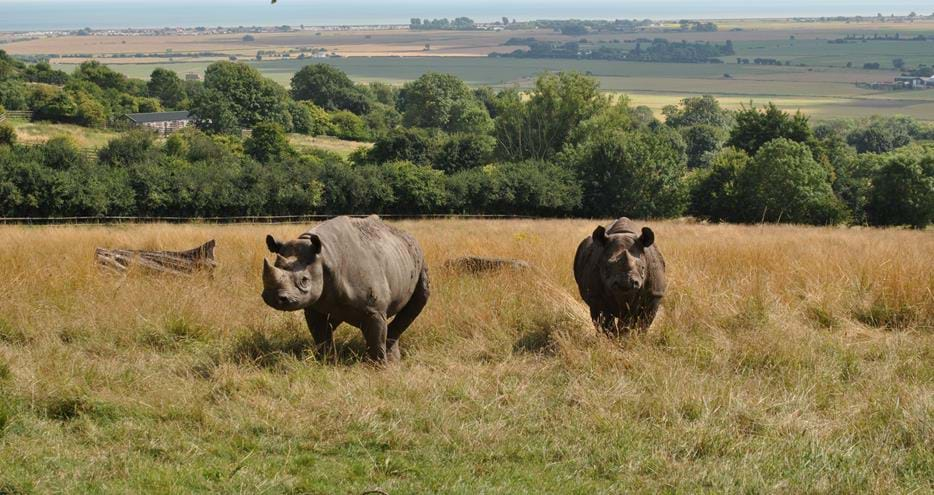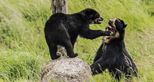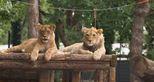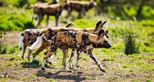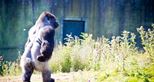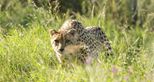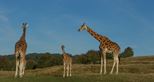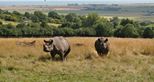 Explore the Reserve
There are plenty of things to do at Port Lympne Reserve. Visit Dinosaur Forest, meander through the 15 acres of landscaped gardens or unwind at the 4* Port Lympne Hotel restaurant and bar. 
Find out more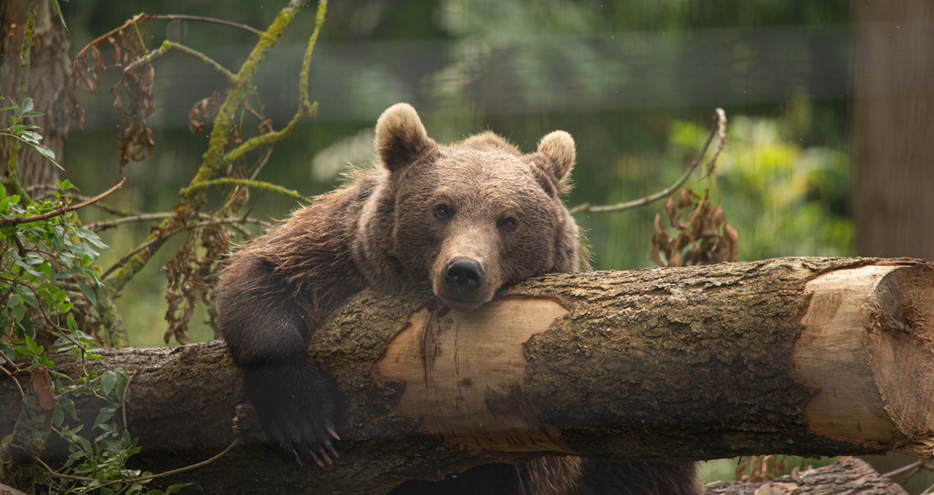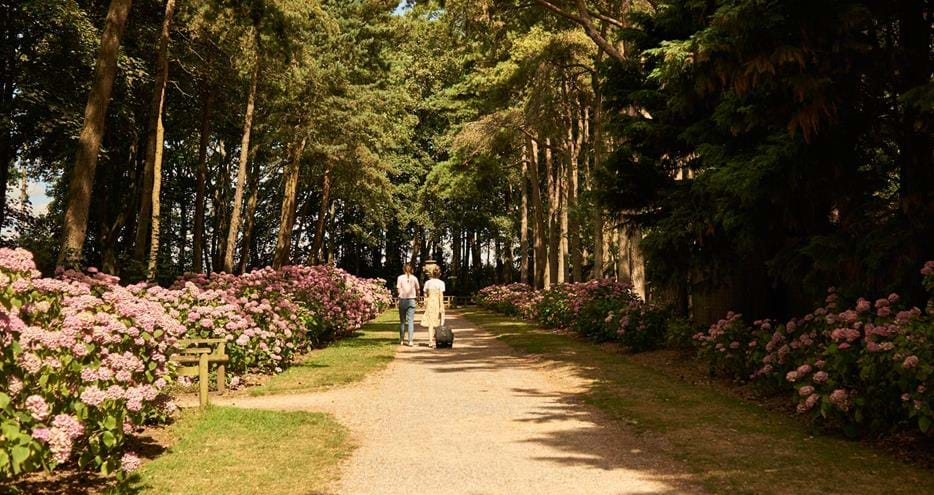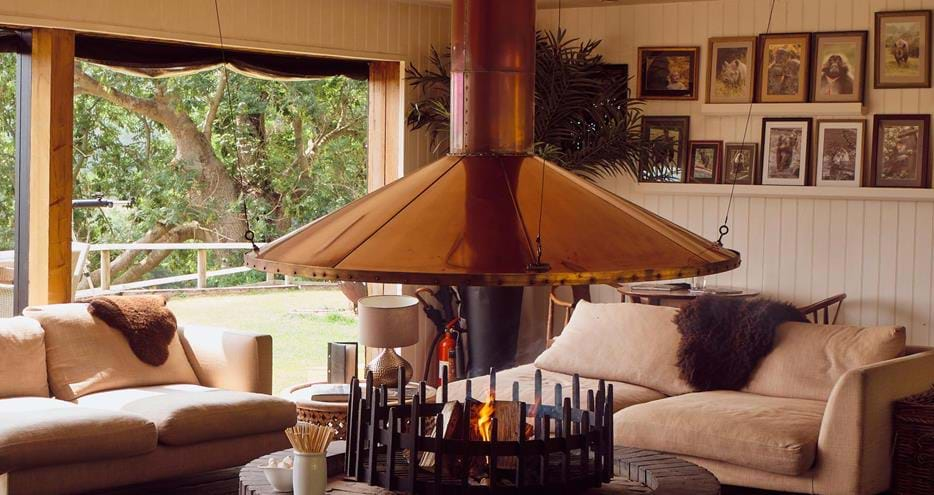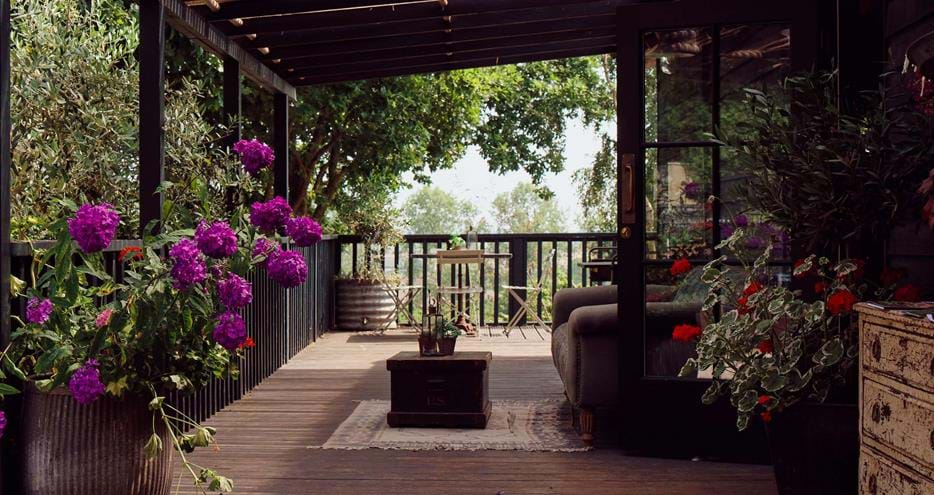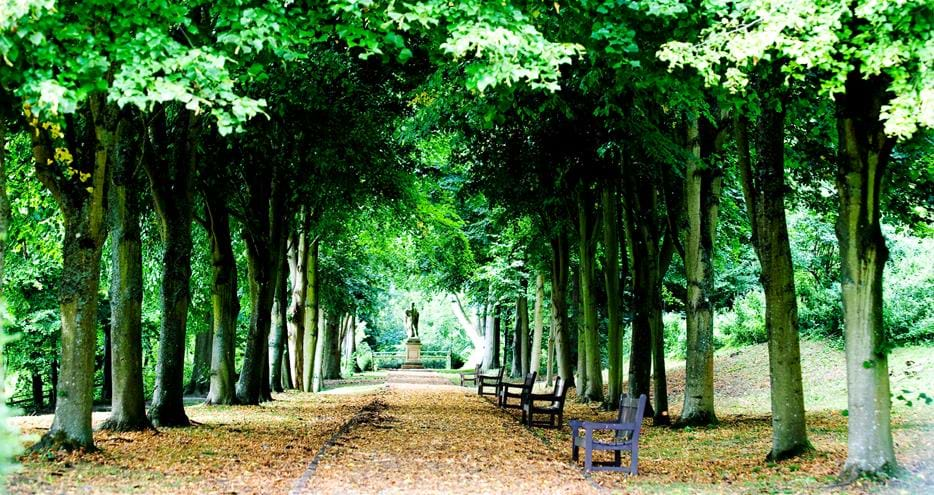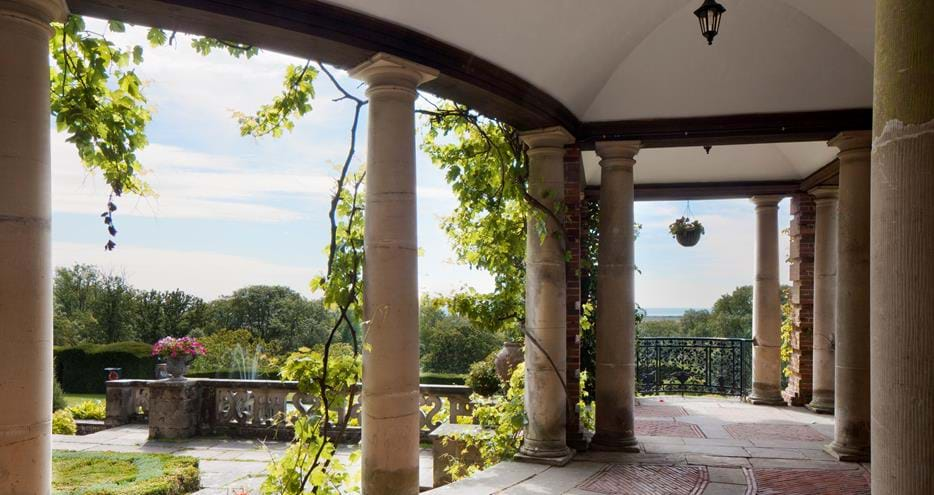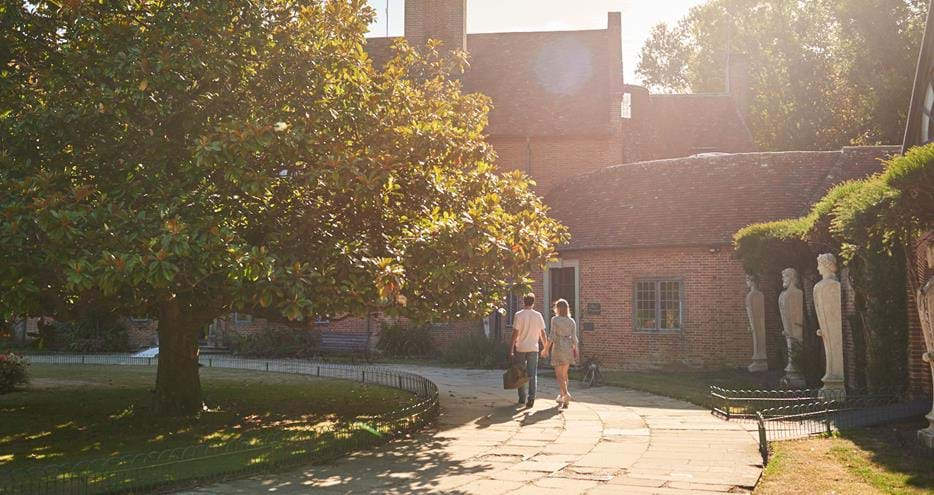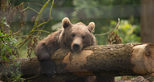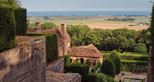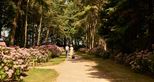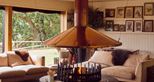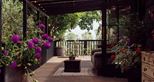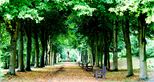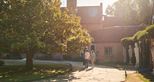 Frequently Asked Questions
Below you'll find the most common questions people ask about staying at Pinewood.
Is it a separate entrance to Pinewood Sheperds Hut from the Park?
No, for satnav the postcode for the Reserve is CT21 4LR.  There is a separate compound for Pinewood guests to park at the end of the tarmacked area.  The entrance is a short walk over the footbridge and then the camping pods are a further two minute walk from the entrance.  For further information on access please call us on 01303 234112.
If you would like to make use of the park on the day of arrival please head straight to the entrance and show your booking confirmation for access.  During your stay access to the park is via the main entrance only.
What time do we check in?
Check in is 3pm -5pm but if you would like to arrive earlier and explore the Reserve from 9:30am, you are welcome to do so (please leave your luggage in your vehicle until check in).  Guests are also welcome to access the park on the day of departure.
What are the café opening times?
Pinewood Café opens at 8am for breakfast until 09:30am. In the evening the kitchen is open from 6pm - 9pm and the café closes at 10pm. Closing times may vary but please check with your friendly check in host for details. Lunch is served daily at Pinewood Café.
What dining options are available on site?
Pinewood Café is situated close to the pods, alternatively we have the Port Lympne Restaurant, Bear Lodge Clubhouse, or Babydoll's Wood Fired Pizza.  Please download our restaurant guide or call us on 01303 234 112 for further details.
What food is offered in the Pinewood Café?
A variety of menu choices are served in Pinewood Café alongside a children's menu.
Can we cook at Pinewood?
There are no cooking facilities at the pods and BBQs are prohibited. However, you'll find many dining options around the reserve at our restaurants, cafes and kiosks.
Are there washing-up facilities on site?
Yes, there is a sink provided for washing up utensils - cloths, sponges and washing up liquid are also supplied.
Are towels and bedding supplied?
Bedding and towels are included.
What entertainment is included?
You'll enjoy FREE entry to Port Lympne Reserve throughout your stay with us.  Plus, there are a number of optional activities available to book, including exciting safaris and animal feeds.  Please book with your host or ranger on Check in day.
Access to the communal games room with pool table and board games is included in your stay. 
Can we play music in our accommodation on a portable radio/cd player etc?
Playing music is fine, but please remember that there will be other guests who may not share your taste, noise carries across the site so please don't be alarmed if we ask you to turn it down. 
Is there a power supply in the hut/can we bring hairdryers, hair straighteners, phone/camera chargers, laptops?
There is limited power supply in the Sheperds Hut so we recommend that you check with the staff on arrival but this is 'Camping' after all!
Do we get admission to Howletts included in our stay?
Admission to our sister park, Howletts Wild Animal Park, near Canterbury is included for the duration of your stay. Check in Please call 01227 721286 for prices and further details.
Can we bring candles?
No, we ask that guests do not bring candles into the Sheperds Hut.
Is smoking allowed on the site?
Yes, but please note that smoking is not allowed in the sheperds hut, recreation room or on the decking.
Can we bring our own alcohol?
Yes, alcohol may be consumed in your accommodation and onsite, alternatively the Pinewood Café serves some beers and wines.
Weather
The Sheperds Hut is insulated and heated, however during adverse weather it may get a bit chilly, so we would advise that if you are staying either very early or late in the season to pack appropriate clothing. We also advise bringing a torch.
You may also like
With 14 different ways to stay, we're certain we have the perfect accommodation for you at Port Lympne Hotel & Reserve. Don't forget that our unique accommodations can be booked as part of your conference or private event.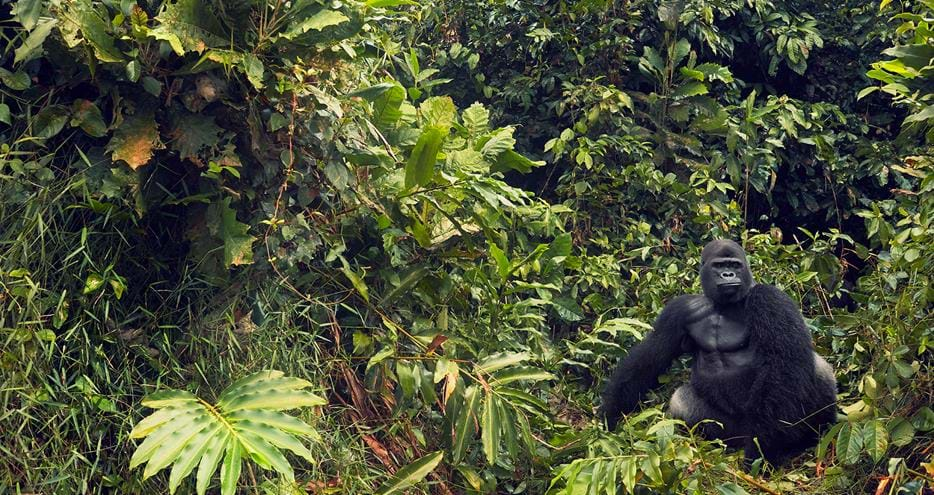 Back to the Wild!
With your visit and stay you contribute to our greatest mission, getting the animals 'Back to the Wild'. This initiative has already seen an impressive number of animals born at Howletts and Port Lympne returned to their natural habitats. Your help is vital for our worldwide conservation projects.
Book Online
For more information or to enquire about gift vouchers for our short breaks, please call 01303 234112 Monday to Sunday between 9am to 5pm.
Alternatively you can make an enquiry by filling in our simple online form and one of our team will be in touch.
Book now