Start your day off right
Booking tickets online is the fastest and simplest way to start your adventure.
We're bringing you even better value wild adventures this autumn/winter with up to 25% off day tickets when you book 3-7 days in advance online! The earlier you book, the more you save. 
Please note: Your discount will be automatically applied. T&Cs apply
**Please note the Old Gorilla Enclosures at the bottom end of the park remain closed for the safety of our animals.  The proximity to the gorillas in this area means they could be at risk of catching corona virus. You can still see our other gorilla groups at the New Gorilla Enclosures near the Gatehouse.**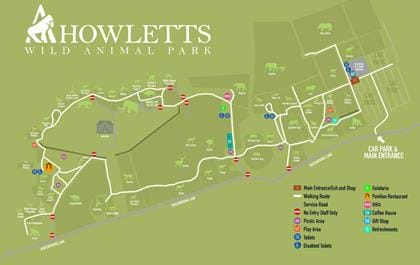 Don't miss a thing!
Over 390 animals live in the 100 acre park so you'll want to make sure you don't miss a thing! Check out our park map to find everything you need to make your day out run smoothly, including all your favourite animals, play areas, restaurants and toilet facilities. Don't forget to check the talk boards when you arrive for times of our fun, fact filled animal talks and feeds throughout the day.
Download map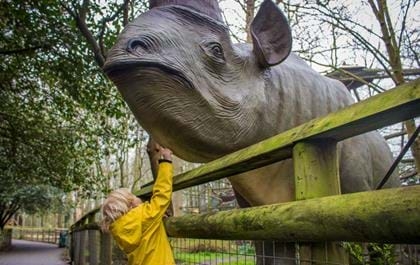 Discover a world lost in time!
Marvel at the life size prehistoric creatures taking over the Woodland Walk. Wonder at the mighty mammoth, stare at the savage sabre toothed Smilodon and delight at the sheer size of the giant sloth, plus many more. Our mighty outdoor exhibition, is the coolest thing in Canterbury!
Find out more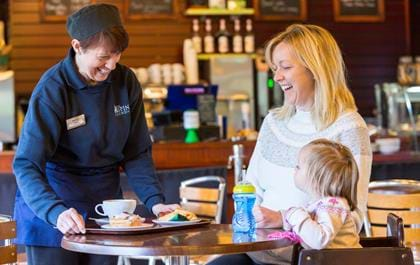 Refresh & Relax
Refresh and refuel during your day out at our cafe, restaurant or seasonal kiosks. Choose locally sourced sandwiches, cakes and freshly brewed coffees at The Coffee House or a hot meal, soup or snack at The Pavilion Restaurant. During peak season our kiosks sell ice cream, donuts, waffles, cold drinks, burgers and hot dogs and will be open around the park (please check notice boards for opening hours).
Where to eat
Daily Talks
Don't miss our free daily big cat, gorilla, rhino and elephant talks, plus you can see the variety of other animal talks available on the day on the boards located outside the Gatehouse and the BBQ.
Big Cat Talk
10:30am at The Giant Anteater Enclosure
Gorilla Talk
11:00am at New Gorillas at the top of park by the Gatehouse
Rhino Talk
12:00pm at The Rhino Paddocks
Elephant Talk
1:30pm at The Elephant Bandstand opposite the BBQ
extra
Encounters & experiences
Make your day out even more special with a close encounter with your favourite animal, or meet Santa in his magical grotto!
Opening times
We are open every day except Christmas Day!
❄️ Winter (1 November - 31 March)
Usual opening hours from 9:30am to 5pm. Last admission 3:30pm.
Christmas Eve      09.30-12.00 for entry. Closed at 14.30 
Christmas day      CLOSED 
Boxing Day          10:00-17:00, last admisson 3pm.
New Years Eve     09:30-17:00
, last admisson 3pm.
New Years Day     10:00-17:00
, last admisson 3pm.
☀️ Summer (1 April - 31 October)
Usual opening hours from 9:30am to 6:00pm. Last admission 4:30pm.
Getting here
Howletts Wild Animal Park is located in Bekesbourne, Kent in the South East of England, just three miles south of Canterbury. Easy to find by car or by public transport come and visit us today. Howletts is within approximately one and a half hours' drive of most locations in Surrey, Sussex and Essex, and is within easy reach of London.
By Car
Howletts wild animal park is in the South East corner of Kent and lies just off the A2 past Canterbury. It is also a short distance from Folkestone and the southern coast of England.
If you are travelling via car and prefer to use a Sat Nav please use Post code CT4 5EL.
By Public Transport
Howletts wild animal park is a 90 minute train journey from Victoria station in London, via Canterbury East to Bekesbourne station.  We recommend you arrange a taxi for the short journey to Howletts Wild Animal Park from there as the route from the station is not suitable for pedestrians.
Park Accessibility
We have endeavoured to ensure we can consistently deliver an inclusive environment for our visitors, providing an experience that can be used by everyone, regardless of age, gender or disability. Throughout the development of the park we have sought ways to break down any unnecessary physical barriers and continue to listen to the needs of our customers.
The terrain is generally flat tarmac paths with a few gentle slopes.
The park is bisected by a relatively steep slope.  Help is available for wheelchair users - please ask a member of staff.
There is a slight slope into the gatehouse at the entrance to the park.
Designated disabled parking is located next to the Gatehouse and entrance to the park on a concrete surface.
The majority of the park is accessible via ramped or level access.
Wheelchairs are available for hire from the Gatehouse.
Disabled toilets and baby changing facilities are available throughout the park
Assistance dogs are not permitted in the park.
For more in depth accessibility information, we recommend you visit our accessibilty page.
What's on
Find out what's on at Howletts.