Port Lympne Welcomes Rare Indian Rhino (or Greater One-Horned Rhino) to its Record-Breaking Collection
The handsome pachyderm's arrival now means the park, near Hythe, is the only collection in Europe that houses three different species of rhino – southern white, eastern black and Indian (also known as greater one-horned). As one of the largest animal parks in the UK with decades of experience keeping rhinos, Port Lympne is one of the few locations with the space and expertise to house such a large and important collection. The reserve is now home to 17 rhinos from three of the five species.
Orys has quickly settled into his large enclosure on Port Lympne's safari route. Truck safaris are included in the cost of tickets at Port Lympne, giving all guests the opportunity to spot Orys as he explores his new home close to the spectacled bears. With the summer holidays approaching, guests are encouraged to pre-book their tickets before they sell out.
Visit our new arrival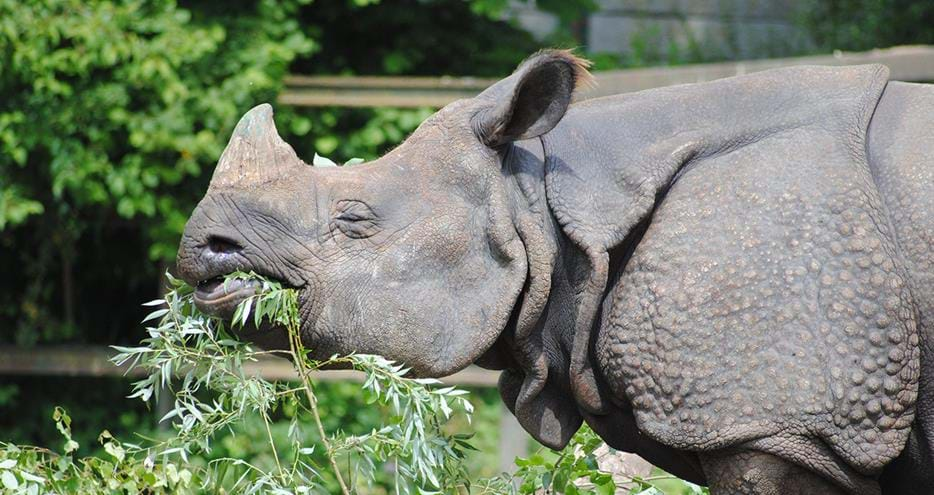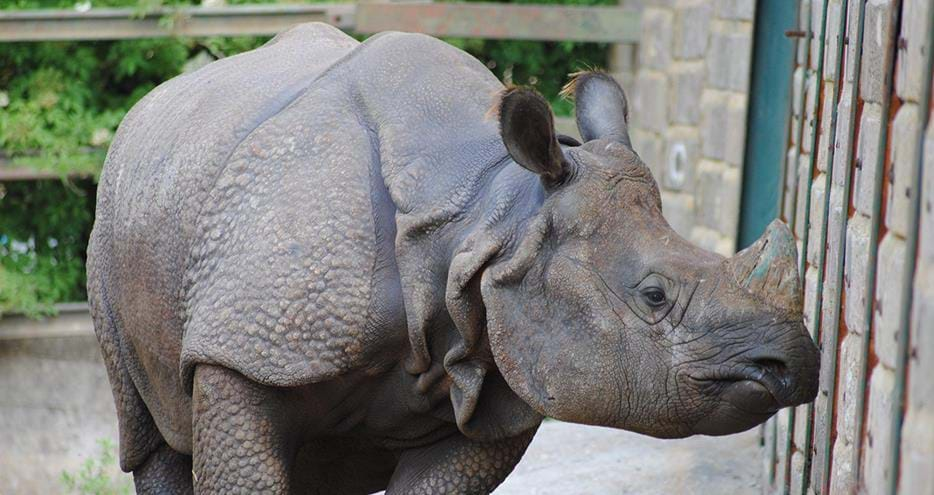 Meet Orys
Rhino fans keen to meet Orys face-to-face can be among the first to welcome him to Kent by booking a Meet The Rhinos experience.
Meet The Rhinos runs on Mondays and Tuesdays from 4th July 2022, offering guests an exclusive behind-the-scenes glimpse into the lives of Port Lympne's rhinos and the best way get to know Orys while he settles into life at the 600-acre reserve. Priced at £100 per person, the experience, which has a maximum group size of 4, includes the opportunity to meet all three species of rhino at Port Lympne.
If the rhinos are hungry, lucky guests could also feed them a few of their favourite treats. The rhinos' dedicated keepers will be on hand to answer guests' questions about these beautiful and often misunderstood animals. This experience is unique to Port Lympne, which is now the only place in Europe where animal-lovers can come face-to-face with three species of rhino.
Orys' diet consists of straw, leaves and branches harvested from around the Port Lympne estate. He is sure to keep his new keepers very busy as he is capable of easily munching through more than 125kg of plant matter every week. Despite his impressive size, the 1.8 tonne new arrival is still growing. Keepers expect Orys to reach 2.5 tonnes – around the same as two Mini coopers!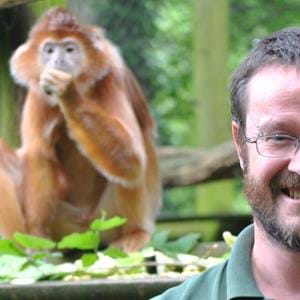 Animal Director

Simon Jeffery

Our keepers worked hard to ensure that Orys's arrival went very smoothly, and he has already captured everyone's hearts. He was incredibly calm during the move, has settled in amazingly quickly and is already out in the paddock, keenly exploring his new environment.
Visit our new arrival
The hefty new arrival was transferred from Basel Zoo, Switzerland, making the 500-mile journey to South East England with specialist wild animal transporters Crossborder Animal Services, arriving at his new home in Kent on the 23rd June. Orys joins the 14 eastern black rhinos and 2 southern white rhinos at Port Lympne's 600-acre reserve near Hythe, which is home to 900 rare and endangered animals.
Buy tickets