Port Lympne Hotel & Reserve
Lion Lodge
Tucked away in the rolling Kent countryside, just 70 minutes from London, you'll discover a truly wild getaway at Port Lympne Hotel & Reserve.
The celebrity hotspot is one of Kent's most popular and exclusive venues. With beautiful views of our stunning 600-acre Reserve, modern interiors and a personal golf buggy at your disposal, Lion Lodge is perfect for reconnecting with nature, meeting amazing animals and enjoying the great outdoors.
How to book Lion Lodge
Lion Lodge is our most popular accommodation and sells out several months in advance, especially for desirable weekend and school holiday dates. For the best chance of joining our pride, we recommend considering midweek stays and booking as far in advance as possible, especially if you're hoping to book a weekend break. 2023 dates are already selling fast, but if you're fast you can still secure your 2023 stay at Lion Lodge.
Book now for 2023
Wondering why Lion Lodge is so popular? 
As well as the magical experience of sleeping just a whisker away from our majestic lions, a luxury stay at Lion Lodge also includes 2 days admission to Port Lympne Reserve, a truck safari and admission to our sister park Howletts Wild Animal Park near Canterbury for the duration of your stay.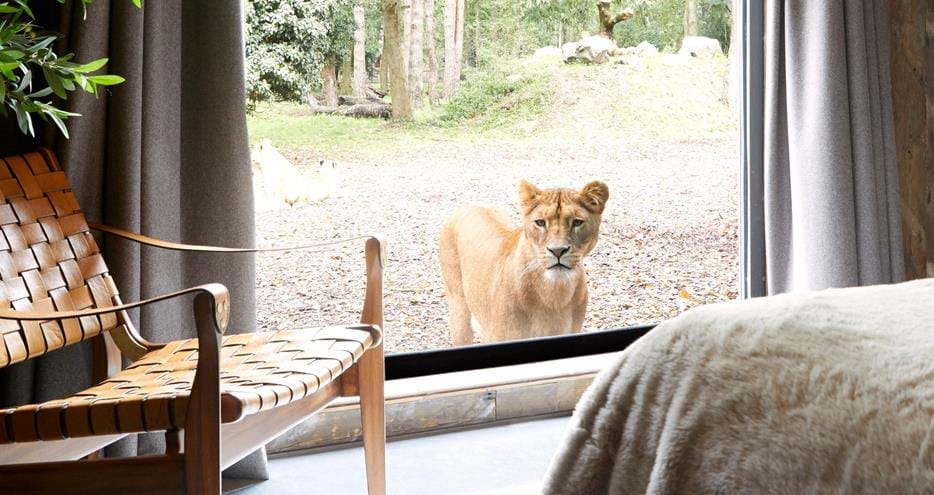 Wild neighbours
Partially set within the lion's natural and spacious habitat the timber clad, Manhattan loft style buildings, feature picture windows in both the master bedroom and the open plan living area, giving you an exclusive view of our magnificent lions.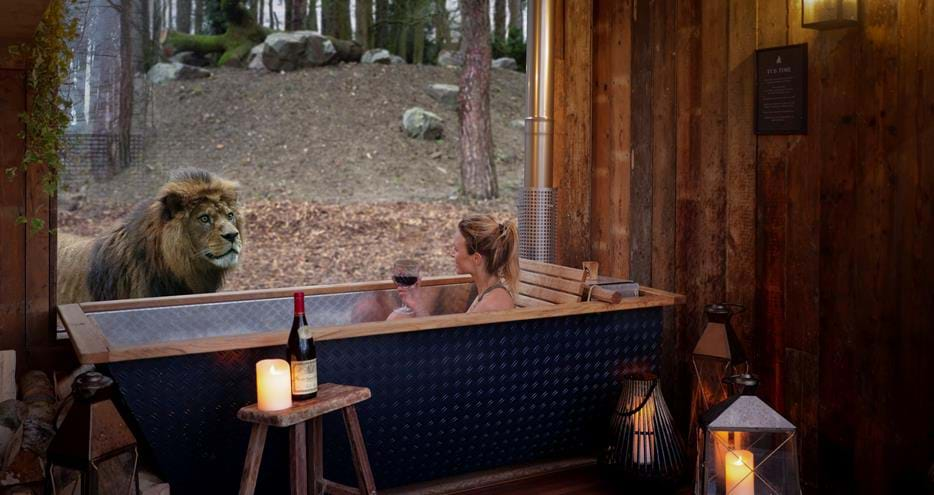 Perfect Instagram shot
Relax and unwind in the outdoor wood-heated bath after a day of exploring the 600 acre reserve. The Scandinavian bath on its raised platform offers the perfect view straight into the lion habitat!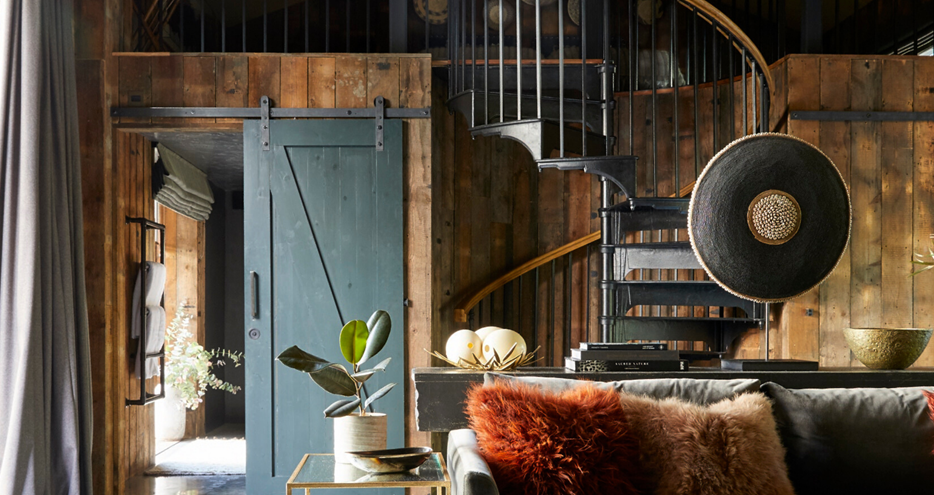 Luxe interiors
The double height living area features a huge open fire place, underfloor heating, and a bespoke bar. A show-stopping, 6ft African clay beaded chandelier adds a touch of safari chic. The large wet room with monsoon shower is complimented with Bamford organic toiletries.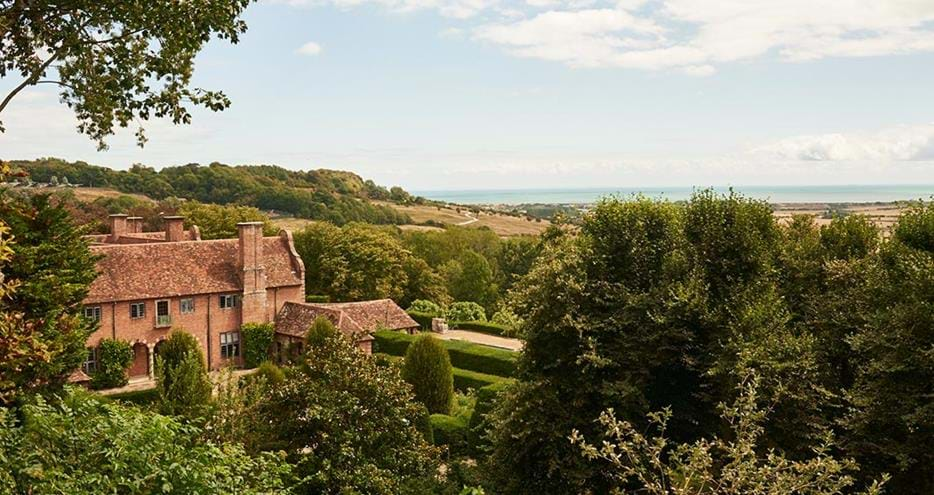 Stunning views
Overlooking the 600-acre wildlife reserve with stunning views out to the Kent coastline, the lodges also each have their own private garden and dining terrace with firepit.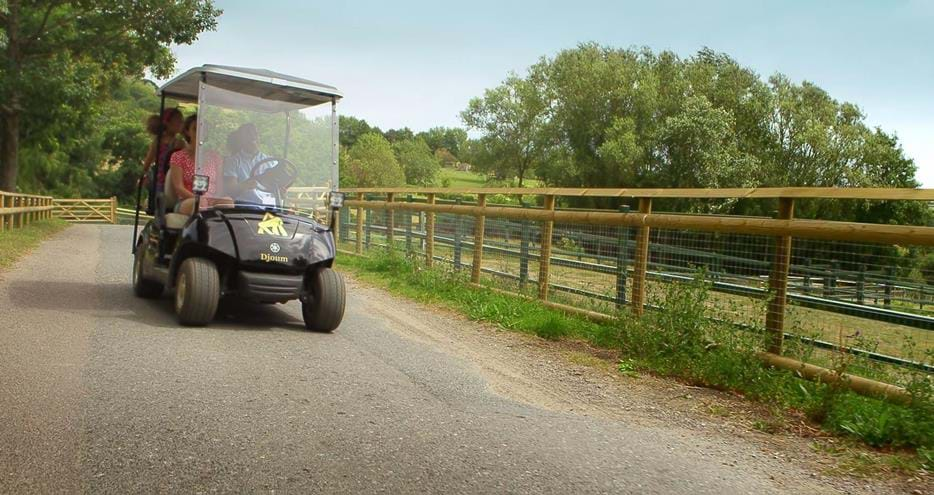 Golf buggy
Explore the reserve in your own personal golf buggy to discover over 900 rare and endangered animals and life-sized prehistoric creatures at Dinosaur Forest.
Meet the Neighbours
During your stay, our resident lions Kamari and Hasani will be your neighbours. Both lions were born here at Port Lympne, where they previously lived with the pride before reaching an age where they would naturally gain more independence.
Celebrity guests
Port Lympne Hotel & Reserve has welcomed many famous faces recently, including reality TV stars, DJs, sports personalities and actors.  Don't forget to follow us on Instagram to keep up with our celebrity guests and tag us in your own posts.
Lion Lodge Port Lympne Reviews
TRIPADVISOR April 2022

Kirsty P

The most amazing experience for my family!! Worth every single penny. The lions are so inquisitive and were visible the entire trip. The whole experience was amazing. The reserve was clean and tidy, we saw all animals up close. Would 100% recommend xx
TRIPADVISOR - March 2020

Georgetud

This place is amazing! Went as a family of 13, had two tiger lodges and a lion lodge, thoroughly loved it from start to end! Have to say the lions were our favourite! Staff were friendly and welcoming, golf buggies were good fun. The lodges are gorgeous and beds were so comfy! Under floor heating was amazing. The lions spent most the day active, All lions came super close to the glass, so many amazing photos. Mom lion was my favourite she came up to the glass and was trying to paw my bag, she also took an interest in my niece who is 3! Had dinner from baby dolls which was lovely and breakfast which was easily as nice in the hotel. Late night outside bath added to the experience. Thank you so much for our amazing stay Port Lympne!!! We didn't want to leave!
TRIPADVISOR - January 2020

Gemma M

We stayed at the lion lodge in January, from start to finish it was amazing. The staff are so helpful and well informed...we had a private champagne with sally the ranger and she was incredible I love the passion all the staff have for their work place. Baby dolls was lovely for a beer and a pizza for lunch, we ate at the hotel for dinner which was also really nice. I also got engaged here on Sunday so just made the trip extra special. I personally loved hearing the lion roar in the morning and was happy to have my coffee and watch them go about their business if you can go and experience this place please do.
Lion Lodge Port Lympne Photos