Staff at Port Lympne Reserve in Kent are mourning the recent loss of one of the park's cherished animals, 28-year-old margay Ambah.
The much-loved cat sadly passed away on 5th August and was the oldest margay - a species of South American small cat – in Europe. She was 7 years older than the next eldest margay in Europe, resident at Magdeburg Zoo, Germany.
Remembering Ambah
Ambah arrived at Port Lympne in February 2005 and very quickly made her mark on the carnivore section with her considerable charm and boisterousness. She remained an excellent hunter, even in her advanced years, and especially loved her food, with a particular fondness for a raw egg.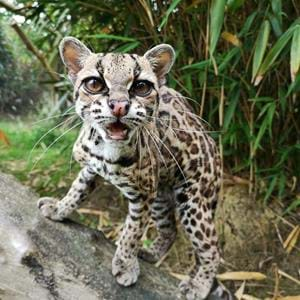 Small Carnivore Keeper

Katie Lound

Ambah was a firm favourite amongst our team. She was a very spicy character and her favourite hobbies included hanging off our boots and harassing all the keepers for food. She was loved by all members of staff who worked with her and we will miss her very much.
Leopardus wiedii
Classified as Near Threatened on the IUCN Red List, margays are arboreal, nocturnal cats native to the forests of Central and South America. They are agile and acrobatic climbers, aided by broad feet, flexible toes and large claws. Their hind feet can rotate inwards through 180 degrees, which means they are the only cat that are able to climb headfirst down vertical trees.
They were hunted illegally for the wildlife trade up until the 1990s, and their population continues to decline due to loss of habitat following deforestation.
Animal Director

Simon Jeffery

Ambah leaves a lasting legacy here at Port Lympne. Not only is her story one of a long life well cared-for, but also underscores our work in helping to conserve the species, which faces numerous threats in the wild.