June 2022
Tipah the Tigress arrives at Howletts
Howletts Wild Animal Park in Bekesbourne, Kent, has welcomed a new star attraction to the park: a magnificent Sumatran tigress called Tipah.  
The three-year-old big cat was transferred to Howletts from Frankfurt Zoo, where she was waved off by her dedicated keepers on 19th May, making the 430-mile journey to Kent. Specialist wild animal transporters Ventura Wildlife Services ensured that the journey was as smooth as possible for the beautiful tigress.
Visitors will be able to see her in the big cat enclosure closest to the visitor centre on the east side of the 100-acre park near Canterbury, which is home to over 390 rare and endangered animals.
Book now
Please ensure all values are entered
Tipah has already been slowly introduced to long-standing Howletts favourite, Achilles, and the pair are currently getting to know each other to ensure compatibility. This process is being closely monitored by the park's dedicated keepers and, once the behavioural signs are positive, they will remain in the same enclosure.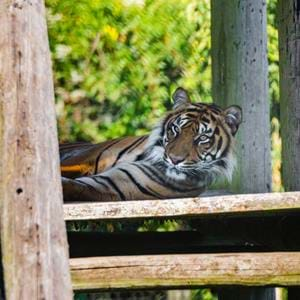 Howletts Animal Director

Matt Ford

Tipah has been settling in extremely well. We've given her the space to fully explore her new surroundings before we considered the introduction, which has been very encouraging so far. Tipah is a stunning cat, who we hope will make an ideal companion for Achilles and provide a captivating sight for visitors.
Sumatran Tigers are currently classified as Critically Endangered on the IUCN Red List, with fewer than 400 left in the wild. They are the smallest subspecies of tiger and are keen swimmers with partial webbing between their toes to help them swim more efficiently when pursuing prey.
The biggest threat to their survival is habitat loss caused by the expansion of palm oil and acacia plantations. The illegal trade in tiger parts for traditional medicines and the depletion of its prey base is also a contributing factor to the dramatic decline of this magnificent animal.
Want to get even closer?
Big cat lovers can get even closer to these stunning animals with an up-close tiger encounter, joining Howletts' expert keepers for an opportunity to feed them.
Choose your close encounter