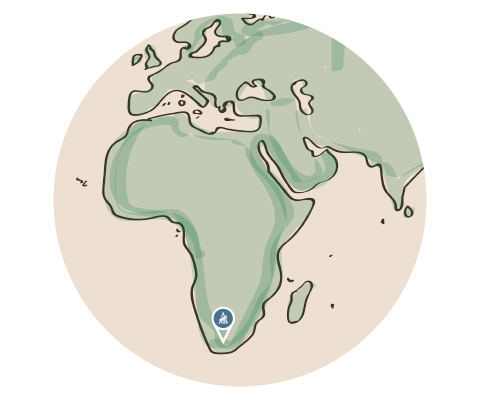 Our work in South Africa
Our work in South Africa started in 1995 with our first reintroduction of eastern black rhino. We then became the first charity to send a brown hyena born in the UK back to Africa. In more recent years we have rescued elephants, giraffes and antelopes and have achieved another world first in conservation for sending a pair of UK born cheetah back to the wild. 
What are we doing here
Key Milestones
Did you know that...
What are we doing here
South Africa is our newest overseas project for
1. Reintroduction in the wild
We are working to habituate as many captive born species as possible to their native lands in South Africa and beyond. The Aspinall Foundation is the first organisation in the world that to reintroduce in their natural habitat 2 cheetah (Saba and Nairo) and a brown hyena born in the UK at Port Lympne Reserve. 
2. Wildlife protection
We collaborated with local partners and international conservationists to rescue 11 elephants, 4 giraffe, 19 buffalo and 29 wildebeest from a barren, half-abandoned reserve in South Africa's Eastern Cape. The rescued animals were all safely translocated to safe new homes within hours.
Key Milestones
1. Our work in South Africa began in 1995 with the reintroduction of an eastern black rhino.
2. We are the first foundation in the world to have successfully reintroduced in the wild 2 cheetah and one brown hyena born in captivity in the UK.
3. We rescued 11 elephants, 4 giraffe, 19 buffalo and 29 wildebeest from an abandoned reserve in South Africa's Eastern Cape and transferred them to a new reserve.
Did you know that...
1. Cheetah is the fastest land animal in the world and can reach a speed of 112km or 65.5 miles per hour in just 3 seconds! It's faster than a sports car!
2. The name Rhino comes from 'Rhinoceros' which means "nose horn" referring to the giant horn that grows from their snouts. The reason why rhinos are often victims of illegal pouching is because the horn is still used in traditional folk medicine especially in Asia.
3. Elephants are the biggest land animal in the world. Male African elephants reach a height of 3m and a weigh between 4,000-7,500kg. Another curiosity is that their tusks continue to grow so if you see an elephant with very long tusks be sure it's an old one!
4. Giraffes have a very long tongue. It can reach the whopping length of 53cm! This helps them pull down the leaves of trees.
5. The brown hyena is a subspecies of the more common spotted hyena. It lives predominantly in the southwest corner of Africa and in Namibia it got the Afrikaans name strandwold (beach dog) because it wanders the seashores for dead seals and other food left by the sea.
Timeline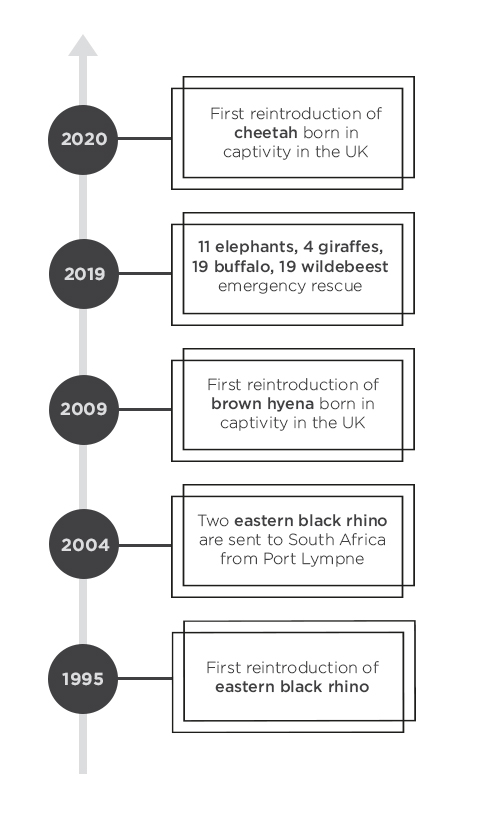 Meet the Team
Meet the amazing people in the Aspinall Foundation Team in South Africa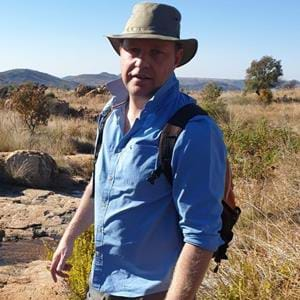 Southern Africa Project Director

Dereck Milburn

Dereck has been actively involved in conservation in Africa for over 18 years, starting his career as a ranger in the Kruger National Park and other parks of South Africa. Since then he has held various strategic positions in conservation areas and consulting businesses, with a key focus on protected area development and management. Dereck has been operating in the NGO space for the last 5 years, where he has specialised in the emergency rescue and translocation of at risk wildlife, especially rhinos and elephants. Sing 2016, Dereck has been involved in the rescue/translocation of close to 250 elephants, 100 rhinos, lions, cheetah and other species. Since joining the Aspinall Foundation as our Regional Director of Southern Africa in 2019, Dereck successfully rescued 12 elephants who were starving on a property owned by an Arab Sheik, along with 19 buffalo, 29 wildebeest and 4 giraffe from the same property. He then went onto facilitating the rewilding process of Saba and Nairo, two male cheetah from the United Kingdom who have successfully been released into a hunting training area in South Africa. Most recently, Dereck facilitated the translocation of three large elephant tuskers to new areas of South Africa to secure their unique genetics along with the translocation and release of two rhino orphans into the wild.
Success stories from South Africa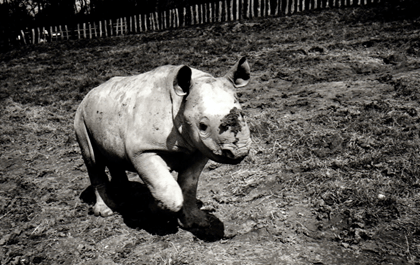 Rewilding Rhino
In 1995 our four year old Port Lympne-bred eastern black rhino, Bwana Kidogo, left Kent for Addo Elephant National Park - a diverse wildlife conservation park situated close to Port Elizabeth in South Africa. In February 2004, two four year old captive bred females made the same journey. All have done well, the females have produced a number of calves between them and Bwana is known to have sired several offspring too.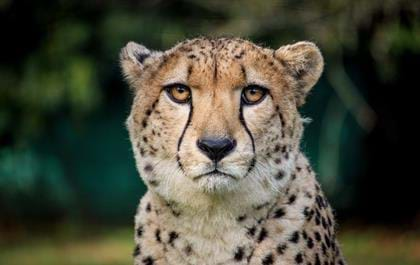 World first for cheetah conservation
The Aspinall Foundation has achieved ground-breaking results in their cheetah rewilding project in South Africa. Saba and Nairo, who were both born in captivity at Howletts Wild Animal Park in the United Kingdom, were translocated to South Africa in February 2020 to start their rewilding journey.
Read more
First brown Hyena born in captivity in the UK released into the wild
2013 saw another first for The Aspinall Foundation when Scar, a four year old brown hyena, travelled 7,847 miles to the 6,000 Hectare Sanwild Reserve in Limpopo, South Africa. Born at Port Lympne in 2009, Scar was already famous as he was the first brown hyena to be born in captivity in the UK. Since his release Scar has settled well and is now fully rehabilitated Back to the Wild. Classified as Near Threatened, the brown hyena has been subject to significant persecution by man as they are mistakenly believed to target livestock. We are working to change that.