Javan gibbons
In December 2009, The Foundation launched a new project to save the endangered Javan gibbon, also known as the moloch or silvery gibbon. The Javan gibbon is unique to the Indonesian island of Java; where estimates indicate less than 2,500 mature individuals remain. Gibbons are the most endangered primate species in the world; threatened by the illegal pet trade, hunting for food and medicine and deforestation.
In 2010 we set up our rescue centre. Designed by the head primate keeper at Port Lympne, the enclosures were a quick and cost effective build, whilst being strong and easy to re-size to allow for rehabilitation, pre-release habituation, and quarantine.
Rescuing and releasing gibbons back into the wild
During 2011 the first five Javan gibbons arrived, rescued from the pet trade and in need of rehabilitation before being released back to the wild. In the first five years of the project we have returned ten gibbons back to the wild – nine were rescued and rehabilitated at the Primate Centre and one sent from our Kent park.
World's most successful breeders
Between 2003 and 2016, the number of zoos outside of Asia keeping Javan gibbons rose from ten to thirteen. While these zoos are cooperating in a captive breeding programme, only a small number are breeding successfully. With 49 viable births since 1988, Howletts and Port Lympne Wild Animal Parks are the world's most successful breeder of this species. We will continue to send gibbons back to the wild.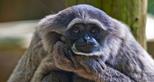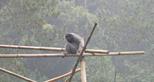 Javan langurs
Javan langurs are also unique to the island and vulnerable to the threat of extinction. In 2012 our centre carried out its first release of rehabilitated wild-born langurs; a group of 13. At the time, our extensive population surveys suggested the number in the wild might be as low as 2,700. The first Javan langurs to leave our parks to make the journey home were a group of six in 2013. After a period of acclimatisation they were introduced to wild-born rescued langurs prior to release. A further three were sent to Java from our parks in 2014, followed by our largest transfer of 15 in 2016. We are planning to send more in 2017.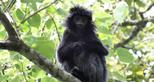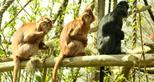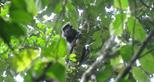 Grizzled leaf monkeys
Grizzled leaf monkeys are also an endangered primate unique to Java, whose numbers in the wild continue to decrease. In addition to the rescued wild-born individuals of this small, slender Old World monkey, we sent our first group of five from our parks in 2014. By the end of 2015, a further group of seven left the UK to go home.
Java Primate Rescue Centres
We now have two sites, one in East and the other in West Java. By the end of 2016 we had returned 78 primates, across three species (10 Javan gibbons, 10 grizzled langurs and 58 Javan langurs). Most have adapted well to their environment, and some have given birth, strongly indicating that rehabilitation and captive breeding programmes can work. With each release, and ongoing monitoring, we learn more about the complexity of the process. Our aim remains to rescue, rehabilitate, breed and release these endangered animals back to the wild.   
Get Involved
This work is only possible with the generous donations of individual supporters. In 2015, we spent just under £150,000 in Java covering the costs of our team headed by experienced primatologist Made Wedana and all the expenses for maintaining both sites – from maintenance of enclosures to veterinary expenses; food and supplies for the animals under our care; and daily post-release monitoring. We make a little go a long way and strive to ensure that every pound is well-spent.
Donate
Made Wedana, Director Javan Primate Programme

The investment you make will pay dividends, not in a financial sense, but in the incalculable reward of helping to save a species.