Wonderful news as six become twelve!
When we last reported on the European bison released into Vanatori Neamt Nature Park they were deep within the forest where they had spent the winter months. To our delight, as they moved back to pasture for the summer, we realised they were not alone. Four healthy young calves were spotted. The six females have been living free since the spring of 2014, and whilst we knew a bull had joined the group for a while over the past two winters it was still a special moment to see the youngsters enjoying a romp in the sun. 
More good news followed towards the end of summer when we received an update from Romania - not only has a fifth calf arrived, but a bull, quite possibly the father, has stayed with the group. 
We hope many more calves will be born in the future, able to live a life in the wild where they belong.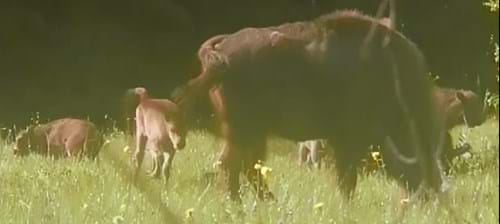 An Uncertain Future for Critically Endangered Mountain Bongo
At the beginning of 2016 The Aspinall Foundation donated 10 camera traps and 15 memory cards to a project in Kenya dedicated to saving the critically endangered mountain bongo.
The largest and heaviest African forest dwelling antelope weighing up to 300 kg, bongo are bright chestnut red when young. They become darker with age and have 12-14 transverse narrow white stripes on the shoulders, flanks and hind quarters. Both sexes have large spiral horns.
Wild mountain bongo populations have suffered huge declines, and are now restricted to a handful of small, isolated populations, in Kenya. The species is on the verge of extinction mainly due to poaching, disease, habitat loss and forest degradation. Field teams from the Bongo Surveillance Project and the Kenya Wildlife Service placed the cameras within the Aberdares forests of central Kenya, an area known to contain the largest remaining population in the wild.
With an estimated figure of less than 150 in the wild we are hoping to expand our involvement in mountain bongo conservation in the near future.  We have already celebrated the birth of three calves at Howletts this year.