More than 50 leading primate conservationists from around the world recently met in Antananarivo, the capital city of Madagascar, to review the conservation status of the 111 species and subspecies of lemurs, all endemic to the island. The Aspinall Foundation was represented by Maholy Ravaloharimanitra and Haingo Randriahaingo. During the discussions Russell Mittermeier, Chief Conservation Officer for the NGO Global Wildlife Conservation, expressed grave concern about the future of lemurs.
It was concluded that 105 lemurs, which equates to 95% of all known species and subspecies, face the very real threat of extinction in the wild. Mr Mittermeier subsequently released a statement saying "This is, without a doubt, the highest percentage of threat for any large group of mammals and for any large group of vertebrates…This assessment not only highlights the very high extinction risk Madagascar's unique lemurs face, but it is indicative of the grave threats to Madagascar biodiversity as a whole. Madagascar's unique and wonderful species are its greatest asset, its most distinctive brand and the basis for a major eco-tourism industry."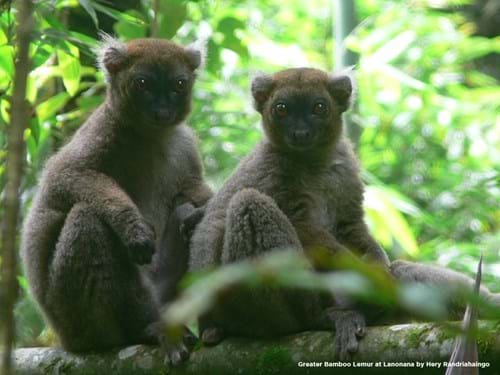 The Aspinall Foundation has been working in Madagascar since 2008 when we first began surveys to assess the status of the greater bamboo lemur.
We are currently working with local communities across several areas of the island and have focused primarily on saving six different lemur species considered Critically Endangered on the IUCN Red List: - the black-and-white ruffed lemur, crowned sifaka lemur, greater bamboo lemur, indri, diademed sifaka and mongoose lemur. 
Whilst we are focusing on these particular species at the present time we are also protecting numerous other threatened lemur species that occur in the same project sites. These include red­-bellied lemur, eastern lesser bamboo lemur, brown lemur, aye­aye, eastern woolly lemur (in the east), rufous brown lemur (in the west) and various nocturnal species such as mouse lemur, dwarf lemur and sportive lemur to name a few.  
We believe this amazing island, and its diverse & unique wildlife must be protected. Please donate today - your support will help us continue this critical conservation work.
Object reference not set to an instance of an object.