Caring for the animals at our parks can create some unusual problems...
For example, arranging dental treatment for one of the largest land mammals in the world!
When 4 year old Howletts born African elephant Mchumba broke the tip off his right tusk at the end of 2015 our keepers were concerned an infection might take hold. Fortunately they could clean and inspect the tusk every day, taking photos for a detailed assessment with our own veterinary team. The decision was made to operate on Mchumba's tusk and in January 2016 Peter Kertesz, a London West End and specialist zoo dentist, came to Howletts.
A dental visit is quite challenging when your patient is an elephant, but all went well and with Mchumba under general anaesthetic the tusk was trimmed and filled. Peter was able to clean and treat the pulp cavity without removing the nerve, meaning the tusk would be able to grow normally. Unfortunately by February 2017 Mchumba had fractured the tusk again. With a second visit and surgery with our own vet team and Peter Kertesz a new filling was put in place. We are hoping this young male won't try for a hat trick!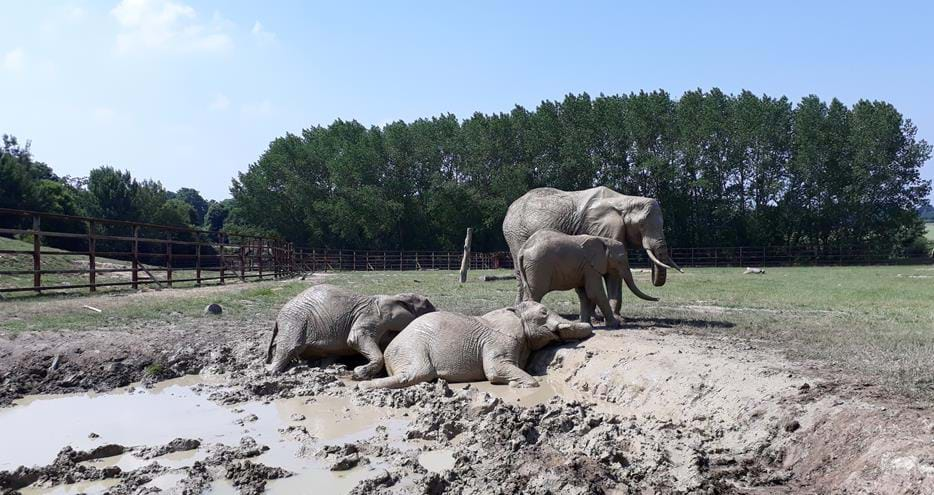 Facts about tusks
1) A tusk is the equivalent of our upper incisor teeth (In humans the front 4 upper teeth are all incisors).
 2) Tusks can continue growing provided the root isn't damaged. They can grow up to seven inches a year. One of the largest tusks ever found was about 10 feet long and weighed over 200 pounds.
 3) Elephant ivory is prized above that of other animals because it is softer for carving. This is why poaching is such a major threat to the species.
 4) Most elephants are either right or left tusk dominant. They have a preference over which tusk they use for basic jobs, such as breaking branches. The dominant tusk is often shorter and rounder at the tip through use.
5) Elephant tusks are unique to the animal - a useful fact for researchers who track elephants using the appearance of the tusks, along with the ears, to identify individuals.
6) As tusks grow they become longer and wider. As a significant part of each tusk is embedded into the skull it means an elephant's skull can grow for the animal's whole life.  To support the weight of such a large skull, huge neck muscles also continue to grow, and so does the skeleton to which they are anchored.  Because of this, some elephants never actually stop growing.  Indeed scientists have found skeletons of 50 year old elephants whose growth plates in their leg bones have never fused.
7) Confiscated tusks are shorter and thinner each year partly because elephants with the longest tusks have been killed, meaning their genes are no longer passed down. Also poachers are taking more females and younger males, increasing the damage to breeding herds.
We are proud that Howletts is home to the only herd of African elephants in Kent and it is currently the largest breeding herd in the UK. 
Learn more about our Elephants