A whole year of adventure!
You can visit as many times as you like in a year with our Season Passes and Memberships and we want to make it as easy as possible for you to come and see your favourite animals!
Members and Season Pass holders booking update
Update 15th April 2021 - The bookings flow for members and season pass holders has been redesigned temporarily to ease the booking process. Please follow the link below for the park you would like to visit. Select the amount of people in your party, including children under 3 even if they don't have a pass. You will need to fill in all your details to complete the transaction at no cost to you.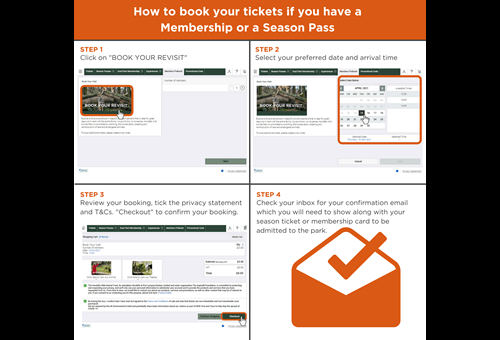 To book your arrival slots please follow the links:
How to book your visits
Our new booking system makes it even easier for you to book your visits with us.  First, you'll need to create an account so we've put together the simple step by step guide below to get you started.

If you cannot see the form below click here to be taken to the form.
Season Passes
The Season Pass gives you unlimited visits to a world of conservation for a whole year! For even more adventure choose the Dual Season Pass for unlimited admission to both Howletts & Port Lympne!
Memberships
Membership of The Howletts Wild Animal Trust gives you all the great benefits of a Dual Season Pass, plus a whole host of other exciting discounts, events and more!