Event date
01 Apr - 16 Apr
Wildlife encounters like no other in the heart of Kent
Rediscover the wild with a day out at Kent's original wild animal park this Easter holiday. Lose yourself in 90 acres of ancient parkland where you'll discover some of the world's most endangered animals, including the only baby elephants in the county.  Come face to face with gorillas, tigers and monkeys at their large viewing windows for the perfect selfie and visit the animals that time forgot in Canterbury's coolest outdoor exhibition; Animals of the Ice Age! For some really wild Easter activities, check out our exciting animal encounters and come face to face with your favourite animals!
Book now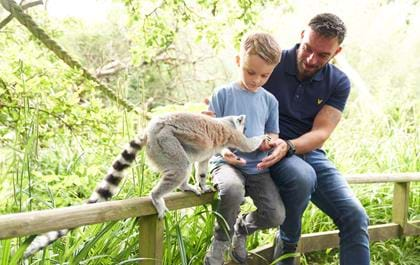 Animal Encounters
Upgrade your adventure with an exciting Animal Encounter! Get even closer to your favourite animal, learn interesting facts, feed where possible and enjoy behind the scenes access as you immerse yourself in our amazing animal world. You'll be making memories and helping us save endangered animals at the same time!
Choose your adventure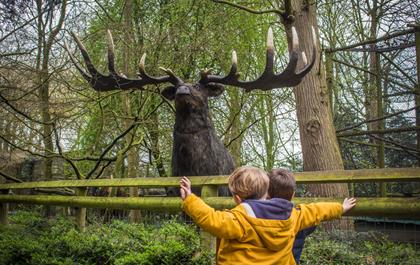 Animals of the Ice Age
Marvel at the life size prehistoric creatures taking over the Woodland Walk. Wonder at the mighty mammoth, stare at the savage sabre-toothed Smilodon and delight at the sheer size of the giant sloth, plus many more - all included in your admission ticket!
Step back in time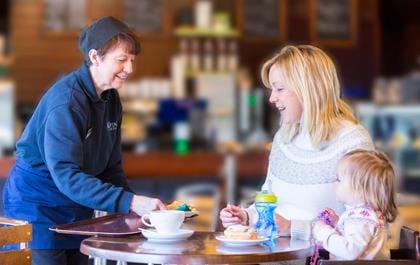 Where to eat
Once you've worked up an appetite it's time to take a break from exploring and enjoy your own feeding time! You'll find tasty hot & cold dishes at our restaurant and cafe or grab a quick snack and a delicious coffee at our seasonal kiosks.
Feeding time!
Ticket Prices
We're bringing you even better value wild adventures this Easter holiday 2023 with up to 25% off day tickets when you book 3-7 days in advance online! The earlier you book, the more you save. 
Please note: Your discount will be automatically applied. T&Cs apply
Days booked in advance

 

Discount

Adult

(Price Including 10% donation)

Child

(Price Including 10% donation)

Same day
n/a
£24.50
£20.00
1 day

n/a

£24.50
£20.00
2 days

n/a

£24.50

£20.00
3 days
10%
£22.05
£18.00
4 days
10%

£22.05

£18.00

5 days
10%

£22.05

£18.00

6 days
10%

£22.05

£18.00

7 days
25%

£18.37

£15.00
  Did you know that we are a charity and that your admission helps us to save rare and endangered animals?
Our Gift Aid admission prices include a donation to our parks conservation work and enable us to claim Gift Aid on your admission. They are 10% more than our standard day ticket prices. You will be asked to pay the donation price unless you request to pay the standard admission price. Your support helps us to fund our vital conservation work.
Standard Ticket Prices
Days booked in advance

 

Discount

Adult

(Standard price)

Child

(Standard price)

Same day
n/a
£22.27
£18.18
1 day

n/a

£22.27

£18.18
2 days

n/a

£22.27

£18.18
3 days
10%
£19.85
£16.20
4 days
10%

£19.85

£16.20
5 days
10%

£19.85

£16.20
6 days
10%

£19.85

£16.20
7 days
25%
£13.78
£11.25
Please note: Carer and concession tickets can be purchased at the Gatehouse. Not available online.
Your ticket in is their ticket home
Your ticket will help to fund not only the care of the animals here at Howletts Wild Animal Park but will also support our overseas projects. Thanks to the generosity of visitors like you, we - in conjunction with The Aspinall Foundation (charity number 326567) - have released more than 70 gorillas back to the wild and our released gorillas have had over 35 wild births! In Indonesia, we have released 49 Javan gibbons, 14 Javan grizzled langurs and 148 Javan ebony langurs. The Indonesian primates have over 40 wild births. We have also transferred 8 black rhino from our Kent parks to Africa, who have produced 25 offspring between them. Find out more about our conservation work around the world.
Find out more
Rainy Day Guarantee
Wet weather? No problem!
Howletts Wild Animal Park is an outdoor experience, but we don't let a little rain stop play.  We recommend getting wrapped up in your waterproofs and fanciest wellies and finding the biggest puddles to splash in!
If the weather really has dampened your spirits, our Rainy Day Guarantee for all day visitors who have booked in advance means that you can return to the Park free of charge within 30 days of your original booking.  Rainy Day tickets must be claimed from the Gatehouse before you exit the Park on the day of your original booking.
Find out more