Become A Real Life Animal Keeper
Have you ever wanted to find out what it is like to be a wild animal keeper? Now you can at the Keeper Academy at Howletts Wild Animal Park in Kent.
The Keeper Academy offers young people aged between 13 & 17 the chance to become a trainee keeper for a day in a hands-on and educational experience.
Here's What You'll Learn
A typical day will involve studying animal observation, cleaning out animals, food preparation and feeding, learning the principles of enclosure design and enrichment, captive breeding and conservation with our expert keeping staff.
Conservation
Animal behaviour
Enclosure Design & Enrichment
Food for thought
Get your hands dirty!
Conservation
A brief history of the park will give you an insight into the vital conservation work we do and how you can get involved in saving endangered animals. 
Animal behaviour
Observe animal behaviour and find out why different animals behave in different ways.
Enclosure Design & Enrichment
Discover why it is important for enclosure designs to reflect the animals' natural habitats and how enrichment helps promote normal behaviour.
Food for thought
Find out how we meet the nutritional needs of different animals at Howletts.
Get your hands dirty!
Find out what it's really like to be a keeper and get stuck in with some mucking out!
Your Day
Meet your guide at 9am
Meet the animals
Animal observation
Lunch (not included) is around 12.15pm
Enclosure design
Feeding time and nutrition
Mucking out!
Your day ends around 4pm.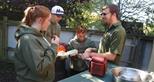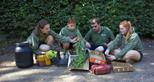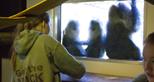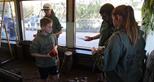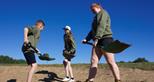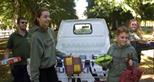 Tripadvisor

Sue & Grace Risby

Thank you Howletts Team for making our experience day perfect!!! I have been recommending the experience to anyone and everyone so hopefully it will bring in some more bookings.
Tripadvisor

Tasha Tabony

Would like to say a huge thank you to all the gorilla zoo keepers. I was a keeper for the day with them (today) I had an amazing day the keepers were all great, nice friendly and most of all shared the same love I have for the gorillas thank you so much I really hope to see you all really soon
Prices & Booking
The day costs just £156 per person. Includes a keeper academy hooded sweatshirt and a certificate (lunch is not included). Reduced rates available for short break guests.
For more information or to book please call 01303 264647. Gift vouchers are available for all Experiences for that special surprise gift.
Important Things To Note
Keeper Academy is offered to young people aged between 13 and 17 and is a practical and academic insight into the role of the Zoo Keeper.
The itinery is subject to change and the animals that the students will be working with may differ from the published itinerary.
We would also like to stress that we will be working very closely with wild animals and the students' good behaviour is of paramount importance. Any students expressing undesirable behaviour will be asked to leave the course. The Health and safety of our students is of highest concern.
Our students will be subject to "messy" situations so suitable clothing and footwear is required.
Available on selected dates only.
Please note this is a group experience and up to 5 individuals may be booked onto a Keeper Academy day.
Also available at our sister park, Port Lympne Reserve, Nr Ashford.