We are closed
Coronavirus update: 4th January 2021 - In light of the recent government announcement placing the UK under alert level 5 and the reinstatement of a nationwide lockdown, we have closed Howletts Wild Animal Park and Port Lympne Hotel & Reserve to the public. We are awaiting further government guidance and will work to reopen the both parks to guests as soon as it is appropriate to do so. We will be contacting guests with upcoming bookings to advise them on next steps.
As a charity, we appreciate your support and understanding. This is an unprecedented situation and during these incredibly challenging times we ask you to consider donating to our Animal Support Fund and contribute towards the feeding and care of our animals.
Donate to Animal Support Fund
How your experience will be different
At Howletts Wild Animal Park, a fundamental part of our mission is to create incredible experiences for animal-lovers. We place the utmost importance on the safety and wellbeing of our guests, animals and teams.
We have completed a series of thorough risk assessments and introduced a range of new health and safety measures that seek to reduce the risk associated with the presence of COVID-19 that are in line with government advice and the requirements of local health authorities. We have also ensured that our teams are provided with the correct PPE, follow social distancing guidelines and carefully monitor their own health to minimise risk.
All guests must wear gloves and a face mask for the duration of the encounter and we ask that you not touch the animals.  Please ensure that you adhere to the 2 metre social distance between yourself, the keeper or ranger and fellow guests.  Hands must be washed before and after your animal experience.
Thank you for your consideration and cooperation to help ensure everyone has a safe and enjoyable visit.
Your wild adventure starts here!
There's so much to do at Howletts! Use this handy day planner to build your personal itinerary, so that you don't miss a thing!
Gift vouchers are available for all of our exciting experiences.  Animal experiences are also available at our sister park, Port Lympne Reserve, near Ashford.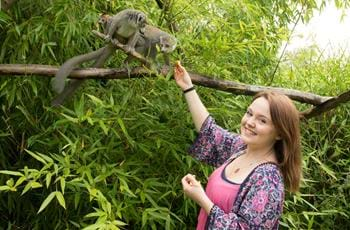 Animal Encounters
30 Min - From £75
Our 30 minute encounters bring you face to face with some of the most endangered species on the planet.
Read More
Your personal day planner
Below is a list of activities that you have added to your planner. Add the activities you would like to attend and print off the day's itinerary! If any of the activities have a cost, don't forget to book them before you visit!
You can also save on your tickets if you book them before your visit.
Buy your tickets
Bookmarked activities will appear here
Bookmarked activities will appear here
Bookmarked activities will appear here
Opening times
Summer
27 MARCH - 29 OCTOBER
9:30am to 6:00pm
Last admission is 4.30pm
Winter
30 OCTOBER - 26 MARCH
9:30am to 5pm
Last admission is 3:30pm
Directions
satnav: CT4 5EL
If you are travelling by car Howletts wild animal park is in the southeast corner of Kent and lies just off the A2 past Canterbury. It is also a short distance from Folkestone and the southern coast of England.